Alfons

Alfons

VIZ Media name

Alfons[1] (en-us )

Variant

Name: Alfons[2][3] (de , it ), Alfonse[4] (es-es ), Alphonse[5] (fr )
Nickname: The North

Original name

アルフォンス[6] Arufonsu

Region

North

Current status

Abandoned

Geographic entity

Peninsula

Geographic features

Mountainous, hyperboreal lands. In the anime a volcano exists[7]

Ties

Isley, Priscilla, Rigaldo, Northern Army

Place name allusion

First mention

Scene 49, Anime Scene 17

First appearance
Northern region
Edit
Alfons—mountainous, hyperboreal lands. Anime has a volcano[8]—this volcano does not appear in the manga. Region ruled by Isley of the North ↓

Dabi, village north of Pieta
Pieta, southmost village, site of the Battle of the North
Volcano, where Clare and her comrades fight Priscilla
Etymology
Edit
アルフォンス transliterates from "Alfonso," derived ultimately from the Germanic element adal (noble) + funs (ready). VIZ Media uses "Alfons," a German, Dutch and Polish form of Alfonso.
"Alfons" and southern region of "Mucha" may allude to Czech Art Nouveau painter, Alphonse Mucha

(1860–1939).
Description
Edit
Northern region of the island world. See world map. Geologically an amalgam of the real world Alps, Scandinavian Peninsula and the volcano of Iceland.
Region is the headquarters of Isley of the North.
Site of Pieta, Dabi and several unnamed villages, one of which Rigaldo and Isley first encounter Priscilla.[9]
The region is also the winter battleground of the Battle of the North.[10]
In the manga, Raki escapes a slave prison, then saves Priscilla from falling debris outside.[11] Unknown to Raki, Priscilla ate the inhabitants and destroyed the village.
Raki travels north on his own volition. He searches a Claymore graveyard in a ruined village north of Pieta. He is relieved when he fails to find Clare's sword. The Priscilla sequence follows.
[12]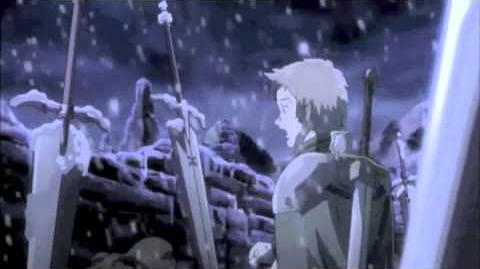 Raki in warrior graveyard
References
Edit
Tankōbon Claymore volumes cited are VIZ Media (en-us) editions, unless otherwise noted. Manga scenes (chapters) not yet translated cite Shueisha tankōbon (ja) editions. Manga scenes not yet published in tankōbon form cite Jump SQ (ja) editions. Fragments of Silver Omnibus (総集編 銀の断章 Gin no Danshou) 1–3, Shueisha, are only available in Japanese. Anime scenes (episodes) cited are FUNimation (en-us) editions, unless otherwise noted.
Ad blocker interference detected!
Wikia is a free-to-use site that makes money from advertising. We have a modified experience for viewers using ad blockers

Wikia is not accessible if you've made further modifications. Remove the custom ad blocker rule(s) and the page will load as expected.