Extra Scene 1

Teresa in graveyard

Original magazine title

戦士の矜持[1] Senshi no Kyōji (Pride of a Warrior)

Issue, release date

16 July 2007, TBA

Tankōbon title

Same as original, Volume 13[2]

US tankōbon title

A Warrior's Pride[3]

New character

Rosemary

Quote

Aye, aye. Boss.[4]

Region

Unknown

Locale

Godar Hill

Next scene

Previous scene
No prologue. Color plate of Teresa in the original Weekly Shōnen Jump publication.[5]
Warrior No. 1, Teresa, kills a Yoma. But she warns the villagers that unless they agree to pay more, she cannot kill a second Yoma, whose presence she senses.[6]
Campfire meeting
Edit
Later that night, a Man in Black, Orsay, meets Teresa. He gives her a new assignment, a black card belonging to warrior No. 2, Rosemary.[7]
Godar Hill
Edit
RendezvousEdit
At sunrise, Teresa reaches Godar Hill. Rosemary awaits. With her sword, she attacks Teresa.[8]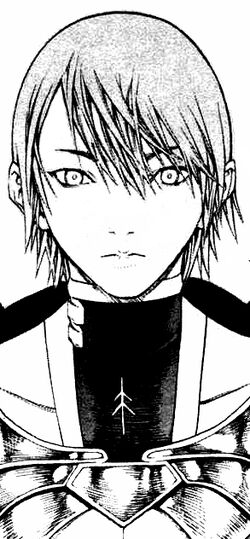 Rosemary

Rosemary, the former No. 1, awakens into a 3-jaw crustacean-like awakened being. She tells Teresa that she awoke before sending her black card. Teresa says that she is relieved. She was afraid it was her fault that Rosemary awoke.[9]
Eventually, Teresa kills Rosemary.[10]
AftermathEdit
When Orsay sees Teresa's disheveled state, he asks if Rosemary awoke. She says no and that Rosemary was euthanized as normal.[11]
Additional details
Edit
The color plate art appears in its original form on p. 069 of Memorabilia
In the original Shueisha version of Extra Scene 1, Teresa says she had no regular contact with Rosemary
In the VIZ Media translation of Extra Scene 1, Teresa says she never met Rosemary,[12] despite fighting together on Rockwell Hill
Cover artEdit
A small image of Clare appears on the front panel of the cover.



Weekly Shōnen Jump 16 July 2007

References
Edit
Tankōbon Claymore volumes cited are VIZ Media (en-us) editions, unless otherwise noted. Manga scenes (chapters) not yet translated cite Shueisha tankōbon (ja) editions. Manga scenes not yet published in tankōbon form cite Jump SQ (ja) editions. Fragments of Silver Omnibus (総集編 銀の断章 Gin no Danshou) 1–3, Shueisha, are only available in Japanese. Anime scenes (episodes) cited are FUNimation (en-us) editions, unless otherwise noted.
Ad blocker interference detected!
Wikia is a free-to-use site that makes money from advertising. We have a modified experience for viewers using ad blockers

Wikia is not accessible if you've made further modifications. Remove the custom ad blocker rule(s) and the page will load as expected.