High Fluid Movement

Noel attacking Yoma

VIZ Media name

N/A

Variant

Schnelligkeit[1] (Rapidity de)

Original name

流れるような高い運動能力[2] Nagareru Yōna Takai Undō Nōryoku (High Fluid Movement)

Class

Description

Attacking target using Agile Speed Attack

Status

Unknown

User

Noel

Associated technique

Unknown

Quote

But it was when Storm Wind Noel, not Muscular Sophia, cut off that arm that I understood. [5]

First appearance
Etymology
Edit
Unofficial translation. "High Fluid Movement" is an abridgement of 流れるような高い運動能力 (High Fluid Physical Movement).
Also referred as 速度特化の剣技 Sokudo toku-ka no ken-waza (High Velocity Sword Technique).[6]
Noel's datasheet names technique in Yoma War Record I.[7] Manga and anime describe only.
Description
Edit
Agile Speed Attack enables this technique: non-predictable attack by confusing target through avoidance and use of obstacles, with bodily moves of ever-changing patterns.
Attack speed approximately 62%. Fifth fastest sword technique.[8] See sword chart.
Yoma nestEdit
Two warriors—Sophia (No. 3) and Noel (No. 4)—meet in a Yoma nest, a village devoid of all human life.[9]
As they
suppress
the
Yoma
, they argue who should be No. 3. Noel compares Sophia's strength-based technique to a gorilla's, while Sophia compare's Noel's agile-based technique to a monkey's. Noel challenges Sophia to a fight. Later, Noel becomes part of a
mission
to
purge
Teresa
.
[10]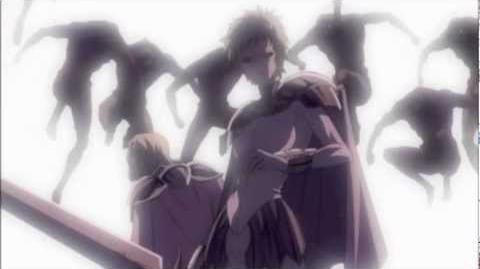 High Fluid Movement in action
Despite higher agility, Noel is defeated by Teresa (A in Agile).[11] Unclear if Detailed Yoma Energy Sensing or Versatility is responsible.[12]
Noel leaps from the street and strikes through the second-story window. But Teresa grabs Clare and jumps out the next window.[13]
Priscilla becomes into one-horned, winged Awakened. The purge team attacks, Noel cutting off Priscilla's arm. But Noel is killed by awakened Priscilla (SSS+ in Agile),[14] despite cutting off Priscilla's arm.[15]
After 7-year timeskip, Clare reminisces how Noel's agility enabled her to cut off Priscilla's arm.[16]
References
Edit
Tankōbon Claymore volumes cited are VIZ Media (en-us) editions, unless otherwise noted. Manga scenes (chapters) not yet translated cite Shueisha tankōbon (ja) editions. Manga scenes not yet published in tankōbon form cite Jump SQ (ja) editions. Fragments of Silver Omnibus (総集編 銀の断章 Gin no Danshou) 1–3, Shueisha, are only available in Japanese. Anime scenes (episodes) cited are FUNimation (en-us) editions, unless otherwise noted.
Ad blocker interference detected!
Wikia is a free-to-use site that makes money from advertising. We have a modified experience for viewers using ad blockers

Wikia is not accessible if you've made further modifications. Remove the custom ad blocker rule(s) and the page will load as expected.