Lacroix

Village of Lacroix

VIZ Media name

Lacroix[1]

Variant

Original name

ラクロア[6] Rakuroa

Region

Lautrec[7]

Status

Inhabited

Geographic entity

Village

Geographic features

South of France-like rural architecture

Ties

Unknown

Place name allusion

Eugene Delacroix

First mention

First appearance
Etymology
Edit
ラクロア transliterates from "Lacroix," a possible fore-clipped version of "Delacroix," which alludes to French Romantic painter, Eugene Delacroix (1798–1863).
Description
Edit
East-most town in western region of Lautrec. In vicinity of Toulouse border. After crossing border, Clare calls it "the nearest town in the west."[8] See world map for approximate location.
Village has a rural south of France style, with Scottish medieval and renaissance Tuscan details.
Village where Clare, Cynthia and Yuma search for an awakened being. But they also run into the Lacroix mission, a search and rescue team looking for Renée.[9]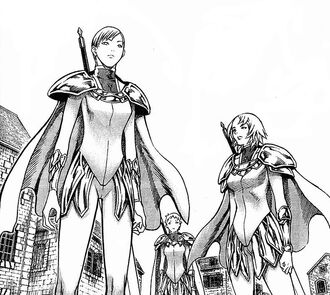 Searching for Renée

Yuma knocks unconscious three warriors and two Men in Black, while Clare and Cynthia take on the Awakened, which tries to escape as a Winged Yoma-like creature.[10]
After Clare and Cynthia kill the awakened, they discover that Rubel witnessed everything.[11]
Egged on by Rubel's story of Rafaela and Renée being captured by Riful, the three Ghosts journey to the Witch's Maw II, northeast of Ticelli.[12]
Additional details
Edit
"Lacroix," French for "the cross," resembles land formation Clare, Cynthia and Uma see before crossing Toulouse border.[13]
VIZ edition of Scene 83 has Rubel referring to Lacroix as "Rabona."[14] Shueisha edition makes no reference to Rabona.[15]
In the village, Cynthia, Yuma and Clare being able to hide their silver eyes without aura suppressant is a continuity issue that occurs throughout the Claymore series
References
Edit
Tankōbon Claymore volumes cited are VIZ Media (en-us) editions, unless otherwise noted. Manga scenes (chapters) not yet translated cite Shueisha tankōbon (ja) editions. Manga scenes not yet published in tankōbon form cite Jump SQ (ja) editions. Fragments of Silver Omnibus (総集編 銀の断章 Gin no Danshou) 1–3, Shueisha, are only available in Japanese. Anime scenes (episodes) cited are FUNimation (en-us) editions, unless otherwise noted.
Ad blocker interference detected!
Wikia is a free-to-use site that makes money from advertising. We have a modified experience for viewers using ad blockers

Wikia is not accessible if you've made further modifications. Remove the custom ad blocker rule(s) and the page will load as expected.