Preemptive Sensing

Sensing Noel's imminent attack

VIZ Media name

N/A

Variant

N/A

Original name

感知先制[1] Kanchi sensei (pronounced kanch sen-say)

Type

Offensive[2]

Description

Ability to detect Yoma power flow, quantity and direction in Yoma-like entities

Status

Extant

User

Associated technique

Detailed Yoma Energy Sensing, Versatility, Quicksword, Windcutter

Quote

Read the flow of his energy, and respond only there with the Quicksword.[5]

First appearance
Etymology
Edit
Teresa's and Clare's datasheets name this ability in Yoma War Record I.[6] The manga and anime describe only.
Description
Edit
Teresa's sensing potential (baseline rated S in Yoma War Record I) enables her sensing technique (Detailed Yoma Energy Sensing) that predicts the "unpredictable" (Quicksword).[7]
Unknown if the Claymore series ever shows Teresa using this ability, since she defeats Priscilla and the purge team without using it or any other special ability or technique.
See Detailed Yoma Energy Sensing.
Clare (baseline rated C+) inherited a weaker version of Preemptive Sensing from Teresa.[8]
From the time of her encounter with Priscilla, Clare had developed her ability in order to fight awakened beings. During the Paburo hunt, Miria notices this.[9]
Ability is on much reduced scale compared to Teresa's. While Clare cannot do Detailed Yoma Energy Sensing, she can still avoid or counter attacks by opponents. And guide
Ilena
's arm using Quicksword.
[10]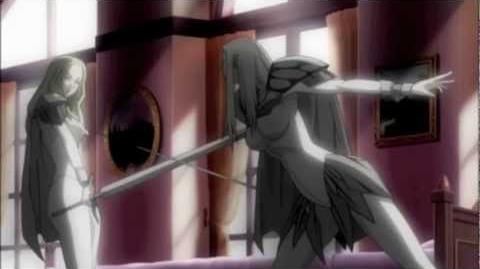 Preemptive Sensing in action
References
Edit
Tankōbon Claymore volumes cited are VIZ Media (en-us) editions, unless otherwise noted. Manga scenes (chapters) not yet translated cite Shueisha tankōbon (ja) editions. Manga scenes not yet published in tankōbon form cite Jump SQ (ja) editions. Fragments of Silver Omnibus (総集編 銀の断章 Gin no Danshou) 1–3, Shueisha, are only available in Japanese. Anime scenes (episodes) cited are FUNimation (en-us) editions, unless otherwise noted.
Ad blocker interference detected!
Wikia is a free-to-use site that makes money from advertising. We have a modified experience for viewers using ad blockers

Wikia is not accessible if you've made further modifications. Remove the custom ad blocker rule(s) and the page will load as expected.