Scene 10

Clare impaled

Original magazine title

TBA[1]

Issue, release date

April 2002, March 2002

Tankōbon title

まほろばの闇 VI[2] Mahoroba no yami VI (Darkness of mahoroba VI), volume 3

US tankōbon title

Darkness in Paradise, Part 6[3]

New character

N/A

Quote

You weren't aiming for my arm...you wanted my head.[4]

Region

Locale

Holy City of Rabona[6]

Anime arc

Next scene

Previous scene
Cold open
Edit
In the baptismal hall, the Voracious Eater, Galk and Sid are all surprised by the sudden appearance of Clare's Claymore sword.[7]
Sword-fight
Edit
Clare's trapEdit
With Galk's sword, the Yoma charges Clare and strikes. Through acrobatic maneuvers, she avoids his blade. In the ensuing sword-fight, the two exchange strikes and slashes.[8]
Then the Yoma shoots out his extensible claws. Clare dodges the claws while cutting a groove in the floor. When the claws get stuck in the groove, Clare cuts off the Yoma's arm.[9]
False victoryEdit
But the Yoma now realizes that Clare is weakening. Also, she missed his head and amputated his arm instead. Claws from his remaining arm pierce Clare. He raises Clare to the ceiling, then hurls her into the floor.[10]
Galk tries to rescue Clare, but two claws pierce his armor. Sid retrieves the sword and throws it to Galk, who cuts free himself and Clare. Sid tries to attack the Yoma, but the claws now pierce his armor.[11]
Galk's gambitEdit
Inexplicably, Galk charges the Yoma, tricking the Yoma to use the claws on him. The claws now caught in Galk's armor, Clare cut off the Yoma's other arm.[12]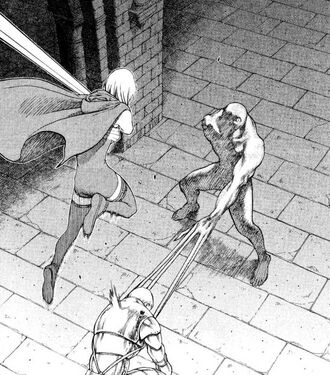 Galk's gambit

Now armless, the Yoma "walks" into Clare's sword, trying to pull it away with his torso. Clare realizes she has to destroy the Yoma's head. She awakens and with her new found strength, she strikes the Yoma and bisects him in two.[13]
Additional details
Edit
Cover artEdit

Monthly Shōnen Jump April 2002

References
Edit
Tankōbon Claymore volumes cited are VIZ Media (en-us) editions, unless otherwise noted. Manga scenes (chapters) not yet translated cite Shueisha tankōbon (ja) editions. Manga scenes not yet published in tankōbon form cite Jump SQ (ja) editions. Fragments of Silver Omnibus (総集編 銀の断章 Gin no Danshou) 1–3, Shueisha, are only available in Japanese. Anime scenes (episodes) cited are FUNimation (en-us) editions, unless otherwise noted.
Ad blocker interference detected!
Wikia is a free-to-use site that makes money from advertising. We have a modified experience for viewers using ad blockers

Wikia is not accessible if you've made further modifications. Remove the custom ad blocker rule(s) and the page will load as expected.