Scene 102

Hellcat attacked

Original magazine title

舞い降りた悪魔[1] Maiorita Akuma

Issue, release date

May 2010, 3 April 2010

Tankōbon title

ロートレクの灰燼 VII[2] Rōtoreku no Kaijin VII, volume 19

US tankōbon title

Ashes of Lautrec, Part 7[3]

New character

N/A

Quote

Did you...let that hit you on purpose?[4]

Region

Locale

Battlefield, forest

Next scene

Previous scene
Cold open
Edit
As Hellcats close in, Yuma learns that Dietrich is in Lautrec for mission failure.[6]
The VIZ Media translation has Dietrich claiming single-digit strength,[7] despite already being No. 8. See Additional details.
The original Japanese text refers to the Abyss Feeders as being close in power to single-digit Claymore warriors,[8] thus being able to fight the Hellcats.
Fight of the infernal
Edit
Dietrich warns Yuma to stay motionless, as the Abyss Feeders pass them. Hellcats charge the Feeders and the engagement begins. Parasitic rods hit the Feeders, but this only removes their appetite restriction to Abyssal Ones.[9]
Now the Feeders gorge on the Hellcats.[10]
Priscilla
Edit
Priscilla interruptedEdit
Deneve, carrying an unconscious Clare, flees with Helen. Priscilla is closing in behind. Deneve cuts apart Hellcats, exposing their interiors, which fires rods into Priscilla. But the rods fail to slow down Priscilla.[11]
Dauf intercepts Priscilla as he hold the upper torso of Riful.[12]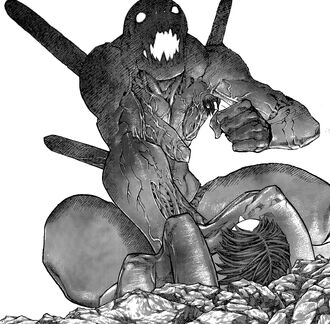 Priscilla interrupted

Dauf pummels Priscilla into the ground. But he accidentally drops Riful's corpse. When Priscilla points this out, Dauf is distracted. Priscilla then destroys his arm.[13]
One-horned MonsterEdit
Priscilla fully awakens—the winged, One-horned Monster returns.[14]
Additional details
Edit
In one English-language scanlation and the current VIZ Media translation of Scene 102,[15] Dietrich says she was demoted from single-digit status. But in later VIZ Media translations:
The original Japanese text in Scene 102 says Dietrich was exiled[19]
Cover artEdit
References
Edit
Tankōbon Claymore volumes cited are VIZ Media (en-us) editions, unless otherwise noted. Manga scenes (chapters) not yet translated cite Shueisha tankōbon (ja) editions. Manga scenes not yet published in tankōbon form cite Jump SQ (ja) editions. Fragments of Silver Omnibus (総集編 銀の断章 Gin no Danshou) 1–3, Shueisha, are only available in Japanese. Anime scenes (episodes) cited are FUNimation (en-us) editions, unless otherwise noted.
Ad blocker interference detected!
Wikia is a free-to-use site that makes money from advertising. We have a modified experience for viewers using ad blockers

Wikia is not accessible if you've made further modifications. Remove the custom ad blocker rule(s) and the page will load as expected.