Scene 103

Distant memory

Original magazine title

深淵の追憶[1] Shin'en no Tsuioku

Issue, release date

June 2010, 3 May 2010

Tankōbon title

ロートレクの灰燼 VIII[2] Rōtoreku no Kaijin VIII, volume 19

US tankōbon title

Ashes of Lautrec, Part 8[3]

New character

N/A

Quote

If there's no way to survive...then we'll seize life from the depths of Hell.[4]

Region

Locale

Forest

Next scene

Previous scene
Cold open
Edit
Dauf and the awakened Priscilla face each other. Meanwhile, Deneve and Helen flee toward the Destroyer, Helen carrying Clare.[6]
Memory lost
Edit
Priscilla destroys Dauf's remaining arm. His body infected with rods, he regenerates Hellcat-like arms.[7]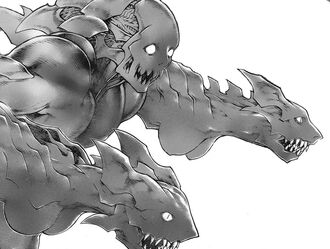 New awakened form

He fires rods at Priscilla, striking her. Her body is partially destroyed.[8]
Memory regained
Edit
From the shock of being hit, Priscilla recovers part of her memory of killing someone (Teresa). And the feeling of being torn apart, when she awakened.[9]
Priscilla destroys Dauf's Hellcat arms.[10]
Teresa redux
Edit
Her body has regenerated. She now sees the possibility to kill that same person (Teresa) again. She then proceeds to bisect Dauf in two.[11]
Additional details
Edit
Cover artEdit
References
Edit
Tankōbon Claymore volumes cited are VIZ Media (en-us) editions, unless otherwise noted. Manga scenes (chapters) not yet translated cite Shueisha tankōbon (ja) editions. Manga scenes not yet published in tankōbon form cite Jump SQ (ja) editions. Fragments of Silver Omnibus (総集編 銀の断章 Gin no Danshou) 1–3, Shueisha, are only available in Japanese. Anime scenes (episodes) cited are FUNimation (en-us) editions, unless otherwise noted.
Ad blocker interference detected!
Wikia is a free-to-use site that makes money from advertising. We have a modified experience for viewers using ad blockers

Wikia is not accessible if you've made further modifications. Remove the custom ad blocker rule(s) and the page will load as expected.