Scene 104

The last of Clare

Original magazine title

悲しみの残響[1] Kanashimi no Zankyōk

Issue, release date

July 2010, 1 June 2010

Tankōbon title

ロートレクの灰燼 IX[2] Rōtoreku no Kaijin IX, volume 19

US tankōbon title

Ashes of Lautrec, Part 9[3]

New character

N/A

Quote

Perhaps that...was an ideal form it wanted to assume. The one I broke...was just a shell giving form to that ideal.[4]

Region

Locale

Forest, battlefield

Next scene

Previous scene
Cold open
Edit
Priscilla leaves Dauf's shattered remains. Her memory nearly restored, she pursues the scent of Teresa, whose flesh Clare contains.[6]
Thrown swordEdit
Deneve and Helen flee toward the Destroyer. The warriors sense Priscilla nearby. Deneve uses a thrown sword against Priscilla, not yet visible. But Priscilla appears anyway, closing in fast.[7]
TentaclesEdit
The Destroyer shoots out tentacles. Deneve gives Clare to Helen. Deneve tries to deflect tentacles as she and Helen flee toward the Destroyer.[8]
The pursuing Priscilla is struck by tentacles. She disintegrates the Destroyer facade, only to reveal its true form—a swirling Yoma energy mass of demonic female shapes, destroying all life it touches.[9]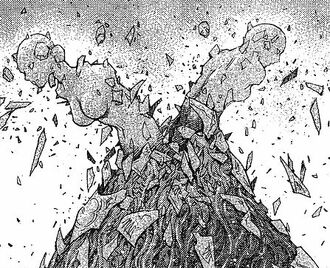 Facade

Priscilla stops and challenges the Destroyer.[10]
Destroyer
Edit
Deneve's arm takes a hit—it disintegrates. But she and Helen reach the Destroyer. Deneve regenerates her arm. But she notices that Helen dropped Clare, whose body fell apart in Helen's grip.[11]
Last of ClareEdit
Clare, her lower torso missing, lies on the ground. Destroyer tentacles pick up Clare.[12]
Additional details
Edit
Cover artEdit
References
Edit
Tankōbon Claymore volumes cited are VIZ Media (en-us) editions, unless otherwise noted. Manga scenes (chapters) not yet translated cite Shueisha tankōbon (ja) editions. Manga scenes not yet published in tankōbon form cite Jump SQ (ja) editions. Fragments of Silver Omnibus (総集編 銀の断章 Gin no Danshou) 1–3, Shueisha, are only available in Japanese. Anime scenes (episodes) cited are FUNimation (en-us) editions, unless otherwise noted.
Ad blocker interference detected!
Wikia is a free-to-use site that makes money from advertising. We have a modified experience for viewers using ad blockers

Wikia is not accessible if you've made further modifications. Remove the custom ad blocker rule(s) and the page will load as expected.