Scene 116

Hysteria's passing attack

Original magazine title

禁断の三戦士[1] Kindan no san senshi (Three forbidden warriors)

Issue, release date

August 2011, 4 July 2011

Tankōbon title

魔女の屍 III Majo no shikabane III, volume 21[2]

US tankōbon title

Corpse of the Witch, Part 3

New character

N/A

Quote

Sorry, but I'm sending you back to the grave.[3]

Region

Locale

Organization Headquarters

Next scene

Previous scene
Cold open
Edit
Rebel warriors battle Abyss Feeders, unaware of Cassandra, Hysteria and Roxanne among them.[5]
The three reanimated warriors cut down the rebels and Abyss Feeders en masse. The amazed Men in Black believe the rebellion is over. But Dae knows battle has only begun.[6]
Counterattack
Edit
The four strongest rebel warriors—Miria, Audrey, Rachel and Nina—plus Twin Trainees, recover enough to continue the fight. Miria combats Hysteria. Audrey, Rachel and Nina combat Cassandra. And the Twins combat Roxanne.[7]
Miria wonders about Hysteria's identity. Then, during a lull in the fighting, Hysteria asks Miria about Rockwell Hill. Miria immediately knows who the warrior is and that the Organization resurrected her.[8]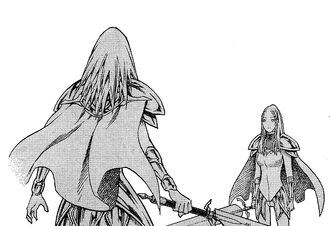 Hysteria and Miria

Hysteria, feeling ignored, attacks Miria.[9] Miria discovers that Hysteria uses the Elegant technique—similar to Phantom. But instead of avoidance, Hysteria attacks.[10]
The Twins defeated, Roxanne now watches Cassandra fight Audrey, Rachel and Nina. Unlike Hysteria and Cassandra, Roxanne remembers her own name—as well as killing Cassandra.[11]
Additional details
Edit
Cover artEdit
References
Edit
Tankōbon Claymore volumes cited are VIZ Media (en-us) editions, unless otherwise noted. Manga scenes (chapters) not yet translated cite Shueisha tankōbon (ja) editions. Manga scenes not yet published in tankōbon form cite Jump SQ (ja) editions. Fragments of Silver Omnibus (総集編 銀の断章 Gin no Danshou) 1–3, Shueisha, are only available in Japanese. Anime scenes (episodes) cited are FUNimation (en-us) editions, unless otherwise noted.
Ad blocker interference detected!
Wikia is a free-to-use site that makes money from advertising. We have a modified experience for viewers using ad blockers

Wikia is not accessible if you've made further modifications. Remove the custom ad blocker rule(s) and the page will load as expected.