Scene 117

Roxanne

Original magazine title

異名の由縁[1] Imyō no yuen (Reason for the nickname)

Issue, release date

September 2011, 4 August 2011

Tankōbon title

魔女の屍 IV Majo no shikabane IV, volume 21[2]

US tankōbon title

Corpse of the Witch, Part 4

New character

Elizabeth, Uranus, Nadine

Quote

I named you the Dusteater. Perfect, don't you think?[3]

Region

Locale

Forest, mountains, Organization Headquarters[5]

Next scene

Previous scene
Cold open
Edit
No cold open.
BeginningEdit
Flashback to when Roxanne is Claymore warrior No.35. She is the fifth member of an Elizabeth's hunt led by No. 5, Elizabeth.[6]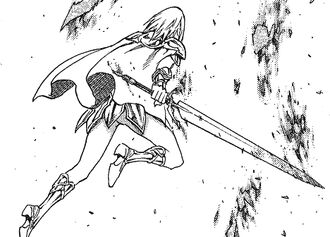 Uranus

Roxanne befriends No.31, Uranus, whose technique Roxanne imitates. No. 31 gouges target with hilt and cross-guard of Claymore sword.[7]
Life patternEdit
Roxanne eventually comes to hate both No. 31 and technique. By the time Roxanne becomes No. 24, her former mentor dies mysteriously during a hunt.[8]
This love-and-hate pattern becomes basis of Roxanne's nickname.
Yoma Energy sensorEdit
Roxanne's next victim, No. 9—Nadine—wears an eye patch since childhood. No. 9 uses Yoma energy sensing to compensate for her lack of depth perception.[9]
During a hunt with No. 9, Roxanne "loses" her eye and also wears an eye patch. Again, Roxanne imitates her mentor's technique. The two become "friends."[10]
Mysterious deathsEdit
But later, Nadine dies mysteriously while fighting a weak awakened. Roxanne removes her eye patch, revealing an uninjured eye.[11]
Soon afterward, Elizabeth mysteriously dies.[12]
New mentorEdit
When Roxanne is No. 5, she meets No. 1—Cassandra. Roxanne is infatuated.[13]
Roxanne repeats "Black Widow" routine—idolizing a lonely, friendless mentor, imitating her technique and mannerisms. She even copies Cassandra's left handedness.[14]
But Cassandra keeps her technique a secret—even from Roxanne. Roxanne stalks Cassandra, who always hunts alone. She discovers Cassandra's secret.[15]
Organization Headquarters
Edit
Flash forward to present. As Roxanne watches Cassandra fight Audrey, Rachel and Nina, Nina wounds Cassandra with Shadow-chaser.[16]
Roxanne again witnesses Cassandra's secret technique—Dusteater. Feet anchored in ground as pivot, head begins bobbing like metronome (upside-down pendulum). As body collapses to ground-level, swinging to and fro, sword swings scythe-like, wide and close to ground—blade striking target's limbs.[17]
Cassandra's nickname reflects both sword technique and fate of target.[18]
Additional details
Edit
Cover artEdit
References
Edit
Tankōbon Claymore volumes cited are VIZ Media (en-us) editions, unless otherwise noted. Manga scenes (chapters) not yet translated cite Shueisha tankōbon (ja) editions. Manga scenes not yet published in tankōbon form cite Jump SQ (ja) editions. Fragments of Silver Omnibus (総集編 銀の断章 Gin no Danshou) 1–3, Shueisha, are only available in Japanese. Anime scenes (episodes) cited are FUNimation (en-us) editions, unless otherwise noted.
Ad blocker interference detected!
Wikia is a free-to-use site that makes money from advertising. We have a modified experience for viewers using ad blockers

Wikia is not accessible if you've made further modifications. Remove the custom ad blocker rule(s) and the page will load as expected.