Scene 118

Hysteria "flowing"

Original magazine title

スタフの死闘[1] Sutafu no shitō (Mortal combat in Sutafu)

Issue, release date

October 2011, 3 September 2011

Tankōbon title

魔女の屍 V Majo no shikabane V, Volume 21[2]

US tankōbon title

Corpse of the Witch, Part 5

New character

N/A

Quote

Shall we begin? Now we start trimming away each other's life.[3]

Region

Locale

Organization Headquarters[5]

Next scene

Previous scene
Cold open
Edit
Cassandra dodges Audrey's counterattack.[6]
Coup de grace
Edit
Cassandra cuts off Audrey's arms. Then Rachel's remaining leg, then arms. Then Nina's arms.[7]
But when Cassandra is about the deliver the coup de grace to Audrey, her cut veers off course, delivering a non-fatal wound.[8]
Raki frees Rafutera from guard escort. Though seriously wounded, she alters Cassandra's sword movement through Yoma power harmonization.[9]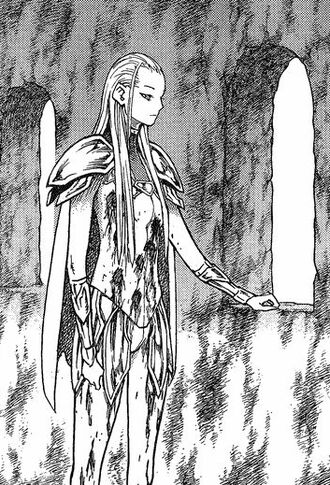 Rafutera

While Raki holds off more guards, trainees try regenerating Rafutera.[10]
Miria momentarily awakens during each attack on Hysteria. But Hysteria keeps wounding her on each attempted attack.[11]
Miria rethinks her technique. Her new starting point is her Yoma power limit at Pieta, pushing the original Phantom performance into unknown territory.[12]
Now she can hit Hysteria.[13]
Her major concern: can she defeat Hysteria before Miria herself awakens?[14]
Additional details
Edit
Title refers to 死闘 (mortal combat) in the eastern region of スタフ (Sutafu). スタフ = Sutafu. の = of. 死闘 = mortal combat. Can also be simplified as "Combat in Sutafu."
Region's name, a transliteration of "staff," may allude to a military staff.
Additional details
Edit
Cover artEdit
References
Edit
Tankōbon Claymore volumes cited are VIZ Media (en-us) editions, unless otherwise noted. Manga scenes (chapters) not yet translated cite Shueisha tankōbon (ja) editions. Manga scenes not yet published in tankōbon form cite Jump SQ (ja) editions. Fragments of Silver Omnibus (総集編 銀の断章 Gin no Danshou) 1–3, Shueisha, are only available in Japanese. Anime scenes (episodes) cited are FUNimation (en-us) editions, unless otherwise noted.
Ad blocker interference detected!
Wikia is a free-to-use site that makes money from advertising. We have a modified experience for viewers using ad blockers

Wikia is not accessible if you've made further modifications. Remove the custom ad blocker rule(s) and the page will load as expected.