Scene 122

Attacking Hysteria

Original magazine title

もがれた翼[1] "Moga reta tsubasa" ("Broken wings")

Issue, release date

February 2012, 4 January 2012

Tankōbon title

深淵の爪と牙 III,[2] volume 22

US tankōbon title

Fangs and Claws of the Abyss, Part 3

New character

N/A

Quote

What I remembered when I saw that form is Clare's awakened form when we deafeated Rigaldo.[3]

Region

Locale

Organization Headquarters[5]

Next scene

Previous scene
Cold open
Edit
Cynthia calms Miria's runaway Yoma energy, while Yuma regenerate Miria's injuries.[6] Meantime, Deneve and the Ghosts rescue the two warriors impaled on Hysteria's limbs.[7]
Six warriors attack—Deneve, Anastasia, Dietrich, Nike, Helen and Tabitha. They use Anastasia's Winged Technique to stay aloft, highwire style.[8]
Hysteria evades Helen's Flexible Limb Stretching-Drill Sword attack, but fails to spot Dietrich and Nike, who cut free the captives. Anastasia and Helen catch the plunging warriors.[9]
Yoma Energy hidden, Tabitha succeeds in approaching Hysteria, then clipping her wings. But when the others close in, Hysteria instantly retreats to earth. The warriors are left crossing each other's swords.[10]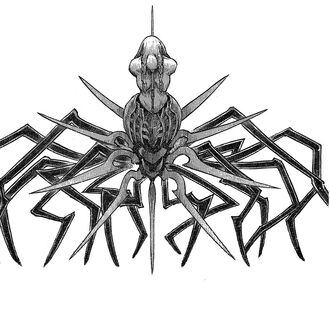 Hysteria wingless

Counterattack
Edit
Suddenly, Hysteria flies skyward, destroying Deneve's left arm, then Nike's right.[11] High above the suspended warriors, Hysteria fires something—it carves out the side of Dietrich's abdomen. Only Anastasia, Helen and Tabitha remain uninjured.[12]
Hysteria, once aloft, can move in any direction but up. Tethered blades similar to reeled speargun-like tentacles of Dreadlock awakened,[13] once anchored in the ground, can suddenly pull her in any direction, down or sideways.[14]
Additional details
Edit
Cover artEdit
References
Edit
Tankōbon Claymore volumes cited are VIZ Media (en-us) editions, unless otherwise noted. Manga scenes (chapters) not yet translated cite Shueisha tankōbon (ja) editions. Manga scenes not yet published in tankōbon form cite Jump SQ (ja) editions. Fragments of Silver Omnibus (総集編 銀の断章 Gin no Danshou) 1–3, Shueisha, are only available in Japanese. Anime scenes (episodes) cited are FUNimation (en-us) editions, unless otherwise noted.
Ad blocker interference detected!
Wikia is a free-to-use site that makes money from advertising. We have a modified experience for viewers using ad blockers

Wikia is not accessible if you've made further modifications. Remove the custom ad blocker rule(s) and the page will load as expected.