Scene 18

Inside the Yoma hive

Original magazine title

TBA[1]

Issue, release date

December 2002, November 2002

Tankōbon title

死者の烙印 I[2] Shisha no rakuin I (Stigma of the dead I), volume 4

US tankōbon title

Marked for Death, Part 1[3]

New character

Noel, Sophia, Ilena, Priscilla

Quote

But...the battle was so close, and yet I didn't sense it.[4]

Region

Locale

Unnamed village

Anime arc

Next scene

Previous scene
Cold open
Edit
Two Claymore warriors carry out a Yoma suppression in an unnamed village, devoid of all humans.
When warrior No. 4 asks No. 3 what this town is, No. 3 describes it as "a nest of Yoma." All of the original townspeople were killed and replaced by the Yoma.[5]
The two warriors—Sophia (No. 3) and Noel (No. 4)—now argue as who should be the real No. 3.[6] Noel somersaults through the Yoma, killing them. Sophia cuts through a stone pillar and kills the Yoma hiding behind it.[7]
Noel compares Sophia's strength-based technique to a gorilla's, while Sophia compare's Noel's agility-based technique to a monkey's. Noel challenges Sophia to a fight.[8]
But No. 2, Ilena arrives. She orders them to stop fighting. As she appoaches, two Yoma attack Ilena. But Ilena's Quicksword is so fast, Sophia and Noel cannot even see Ilena unsheathe and kill the two Yoma.[9]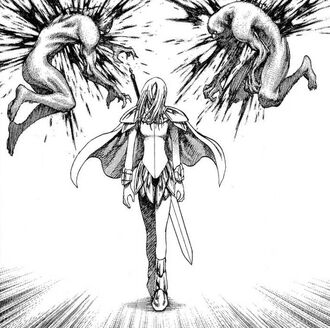 Quicksword

Ilena says their real assignment is to kill Teresa. Sophia and Noel think Ilena is in charge of the mission, but Ilena says she is no longer No. 2.[10]
Priscilla
Edit
The three see the new No. 2, Priscilla, stumbling out of an alley and falling to her knees, exhausted. Noel angrily challenges Priscilla to a fight, but then sees the entire alley strewn with Yoma body parts.[11]
Teresa and Clare are in sight of another village. There, Teresa says, they can stay for awhile.[12]
Additional details
Edit
The current Claymore rank number system is introduced in this scene
Teresa's original "Number 182" is retconned to "No. 1"
Cover artEdit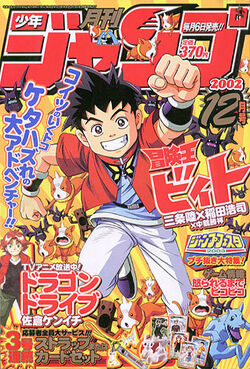 Monthly Shōnen Jump December 2002

References
Edit
Tankōbon Claymore volumes cited are VIZ Media (en-us) editions, unless otherwise noted. Manga scenes (chapters) not yet translated cite Shueisha tankōbon (ja) editions. Manga scenes not yet published in tankōbon form cite Jump SQ (ja) editions. Fragments of Silver Omnibus (総集編 銀の断章 Gin no Danshou) 1–3, Shueisha, are only available in Japanese. Anime scenes (episodes) cited are FUNimation (en-us) editions, unless otherwise noted.
Ad blocker interference detected!
Wikia is a free-to-use site that makes money from advertising. We have a modified experience for viewers using ad blockers

Wikia is not accessible if you've made further modifications. Remove the custom ad blocker rule(s) and the page will load as expected.