Scene 20

Fighting Priscilla

Original magazine title

TBA[1]

Issue, release date

February 2003, January 2003

Tankōbon title

死者の烙印 III[2] Shisha no rakuin III (Stigma of the dead III), volume 4

US tankōbon title

Marked for Death, Part 3[3]

New character

N/A

Quote

She can sense the strength and speed of Yoma energy flowing through the body.[4]

Region

Locale

Unnamed village

Anime arc

Next scene

Previous scene
Cold open
Edit
The villagers are confused by the Claymore warriors fighting each other. Noel is angry with Priscilla.
In a soliloquy, Sophia steps outside the inn and reveals the purge team's plan—Priscilla was suppose to ambush Teresa from behind. Instead, Priscilla choose to announced her presence and fight Teresa head-on.[5]
Confronts Priscilla
Edit
Teresa instructs Clare to leave the area. Teresa then asks Priscilla why she did not attack from behind. Priscilla replies that she must fight fairly. Then reproaches Teresa for killing humans. Priscilla attacks. During the combat, Teresa cannot sense Priscilla's Yoma power.[6]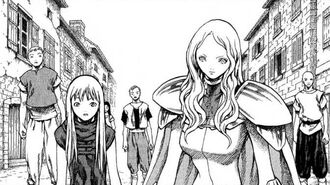 Teresa and Clare face Priscilla

Ilena's explanations
Edit
Explanation IEdit
Ilena and Noel watch from the wreckage of Teresa's room. Ilena tells Noel that while Sophia's strength, Ilena's speed and Noel's agility are greater than Teresa's, Teresa's ability to sense Yoma energy (Preemptive Sensing) makes her the best warrior.
Ilena speculates that Priscilla's Yoma Energy Control, which turns off one's aura, will render Teresa's sensing useless.[7]
Explanation IIEdit
But Teresa's use of ordinary sword technique fends off Priscilla. Overwhelmed by the "ordinary," Priscilla soon fights blindly. Ilena realizes that Teresa does not need her special ability to beat Priscilla. Priscilla was outmatched all along. Noel becomes confused by Ilena's successive explanations.[8]
See Versatility.[9]
Additional details
Edit
In Scene 12, Orsay explains Teresa's nickname by her face being unmarred from releasing Yoma energy. Scene 20 gives another origin of Teresa's nickname—Teresa's smile is the only obvious thing about her
References
Edit
Tankōbon Claymore volumes cited are VIZ Media (en-us) editions, unless otherwise noted. Manga scenes (chapters) not yet translated cite Shueisha tankōbon (ja) editions. Manga scenes not yet published in tankōbon form cite Jump SQ (ja) editions. Fragments of Silver Omnibus (総集編 銀の断章 Gin no Danshou) 1–3, Shueisha, are only available in Japanese. Anime scenes (episodes) cited are FUNimation (en-us) editions, unless otherwise noted.
Ad blocker interference detected!
Wikia is a free-to-use site that makes money from advertising. We have a modified experience for viewers using ad blockers

Wikia is not accessible if you've made further modifications. Remove the custom ad blocker rule(s) and the page will load as expected.