Scene 22

Somersault and thrust

Original magazine title

TBA[1]

Issue, release date

April 2003, March 2003

Tankōbon title

死者の烙印 V[2] Shisha no rakuin V (Stigma of the dead V), volume 5

US tankōbon title

Marked for Death, Part 5[3]

New character

N/A

Quote

Why am I thinking of Clare...?[4]

Region

Locale

Unknown village, plateau

Anime arc

Next scene

Previous scene
Cold open
Edit
The purge team lies bleeding and prostrate in the street. Ilena cannot believe what has transpired. Her every calculation has turned out wrong.[5]
Quality of mercy
Edit
PriscillaEdit
Teresa tells Clare to pack their things. Teresa contemplates beheading Priscilla, who knells terrified as she faces death. Teresa is about to behead her.
But to her own dismay, Teresa softens and decides not to carry out the execution. When Clare rejoins Teresa, Teresa warns the warriors that she will cut them down matter how many times they come after her.[6]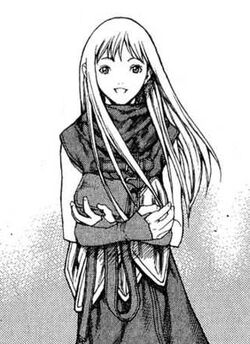 Clare brings Teresa's things

Clare shows up with Teresa's faulds and pouch.
The purge team watch helplessly as Teresa and Clare leave town. Ilena is amazed that Teresa did not kill Priscilla.
Realizing they still have a chance to carry out the mission, Ilena tries to regroup, but Priscilla partially awakens and pursues Teresa. Ilena tells the team to pursue the pursuer. Priscilla is out of control.[7]
Final battle
Edit
Teresa's warningEdit
Priscilla catches up with Teresa and Clare on a deserted plateau. Teresa warns Priscilla to stop releasing her Yoma energy. She explains the stages of awakening and the associated percentages of release. 10% release causes the eye color to change. At 30% the face transforms. At 50% the body changes. The 80% level is irreversible and Priscilla is already at 70%.
Priscilla tells Teresa to shut up and attacks, but Teresa repels the sword strokes as before. Priscilla gradually loses her human mind as the combat continues.[8]
Priscilla does a somersault and sword thrust, but Teresa dodges the thrust. With her sword arm twisting around her body, Priscilla makes an unexpected thrust. Teresa's forehead is wounded with with the point of Priscilla's sword.[9]
Though the wound is not serious, Teresa warns Priscilla that she is losing her human mind and Teresa may have to kill her.[10]
Additional details
Edit
References
Edit
Tankōbon Claymore volumes cited are VIZ Media (en-us) editions, unless otherwise noted. Manga scenes (chapters) not yet translated cite Shueisha tankōbon (ja) editions. Manga scenes not yet published in tankōbon form cite Jump SQ (ja) editions. Fragments of Silver Omnibus (総集編 銀の断章 Gin no Danshou) 1–3, Shueisha, are only available in Japanese. Anime scenes (episodes) cited are FUNimation (en-us) editions, unless otherwise noted.
Ad blocker interference detected!
Wikia is a free-to-use site that makes money from advertising. We have a modified experience for viewers using ad blockers

Wikia is not accessible if you've made further modifications. Remove the custom ad blocker rule(s) and the page will load as expected.