Scene 23

Plateau battlefield

Original magazine title

つかめぬ虚空[1] Tsukamenu kokū

Issue, release date

May 2003, April 2003

Tankōbon title

死者の烙印 VI[2] Shisha no rakuin VI (Stigma of the dead VI), volume 5

US tankōbon title

Marked for Death, Part 6[3]

New character

N/A

Quote

It was then...amid brutal pain and intense pleasure...while bodily fluids dripped from every part of my body...quietly, yet violently...the thing was awakened.[4]

Region

Locale

Plateau

Anime arc

Next scene

Previous scene
Cold open
Edit
Ilena, Sophia and Noel climb the plateau, where above the combat rages between Teresa and the awakening Priscilla.[5]
Losing her mind
Edit
Using only 10% Yoma power, Teresa temporarily defeats Priscilla.[6]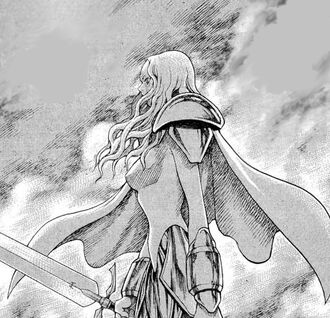 Teresa

Priscilla remembers how her Yoma-infected father killed her mother, brother and sister. As the father was eating Priscilla's sister, Priscilla crept up from behind and cut off his head.[7]
Final fate
Edit
Priscilla pleads to be executed, but Teresa hesitates too long. Priscilla cuts off Teresa's hands, then beheads her. The headless body collapses. Clare and the purge team watch in horror.[8]
Awakening
Edit
Priscilla is almost fully awakened.[9]
Additional details
Edit
Priscilla thinks she is becoming a Yoma and appears unaware of awakened beings
References
Edit
Tankōbon Claymore volumes cited are VIZ Media (en-us) editions, unless otherwise noted. Manga scenes (chapters) not yet translated cite Shueisha tankōbon (ja) editions. Manga scenes not yet published in tankōbon form cite Jump SQ (ja) editions. Fragments of Silver Omnibus (総集編 銀の断章 Gin no Danshou) 1–3, Shueisha, are only available in Japanese. Anime scenes (episodes) cited are FUNimation (en-us) editions, unless otherwise noted.
Ad blocker interference detected!
Wikia is a free-to-use site that makes money from advertising. We have a modified experience for viewers using ad blockers

Wikia is not accessible if you've made further modifications. Remove the custom ad blocker rule(s) and the page will load as expected.