Scene 39

Confronting Clare

Original magazine title

忘我の覚醒[1] Bōga no kakusei (The ecstasy of awakening)

Issue, release date

September 2004, August 2004

Tankōbon title

闘う資格 III[2] Tatakau Shikaku III, volume 7

US tankōbon title

Fit for Battle, Part 3[3]

New character

N/A

Quote

I'm Clare, Number 47. I've taken on Teresa's flesh and Ilena's right arm.[4]

Region

Locale

Forest, lake

Anime arc

Next scene

Previous scene
Cold open
Edit
Clare meets Ophelia, now a huge, serpentine awakened being. Ophelia asks about Clare's right arm—she thought she chopped it up.
Ophelia is completely unaware of her new appearance and speaks as if she still retained her human form. [6]
Renewed combat
Edit
Strange hungerEdit
But this second fight is entirely unlike the first that began in Gonahl. Ophelia now desires to eat Clare's internal organs. The two clash in the forest. She takes a bite of Clare's left arm but spits it out in disgust. Ophelia hurls Clare into the lake.[7]
Revelation IEdit
As Ophelia holds Clare underwater, she sees her reflection—she is an awakened. Horrified, Ophelia releases Clare.[8]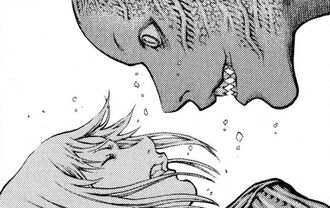 Ophelia faces Clare

Ophelia is besides herself with horror and grief.
Revelation IIEdit
Ophelia says she only wants to kill the one-horned awakened who killed Ophelia's brother. The description matches the awakened Priscilla.
Clare proceeds to chop up Ophelia's arms, after which Ophelia demands that Clare identify herself. Clare reveals that she is No. 47, who has taken on Teresa's flesh and Ilena's right arm. Clare says she intends on taking the head of Priscilla herself.[9]
But she also asks for Ophelia's forgiveness, as she also intends on taking Ophelia's soul.[10]
Additional details
Edit
References
Edit
Tankōbon Claymore volumes cited are VIZ Media (en-us) editions, unless otherwise noted. Manga scenes (chapters) not yet translated cite Shueisha tankōbon (ja) editions. Manga scenes not yet published in tankōbon form cite Jump SQ (ja) editions. Fragments of Silver Omnibus (総集編 銀の断章 Gin no Danshou) 1–3, Shueisha, are only available in Japanese. Anime scenes (episodes) cited are FUNimation (en-us) editions, unless otherwise noted.
Ad blocker interference detected!
Wikia is a free-to-use site that makes money from advertising. We have a modified experience for viewers using ad blockers

Wikia is not accessible if you've made further modifications. Remove the custom ad blocker rule(s) and the page will load as expected.