Scene 43

Witch's Maw

Original magazine title

歪んだ蹂躙[1] Yuganda jūrin

Issue, release date

January 2005, December 2004

Tankōbon title

魔女の顎門 III[2] Majo no Agito III, volume 8

US tankōbon title

The Witch's Maw, Part 3[3]

New character

Galatea (unnamed)

Quote

But since I was born human, I live for humans. That's the one truth inside me.[4]

Region

Locale

Abandoned castle in Zakol Mountains[6]

Anime arc

Next scene

Previous scene
Cold open
Edit
Clare approaches the castle entrance. She senses many Yoma auras that confuses her.[7]
Entrance walls bristle with Yoma rods, throbbing with Yoma power. She wonders what huge entity created them. Then four Yoma attack. The rods camouflages their auras. Despite the surprise, Clare engages the Yoma, killing three.[8]
The fourth Yoma flees, but from the floor below, Dauf's arm erupts through. He seizes and crushes to death the Yoma for retreating.[9]
Dauf climbs through the floor and confronts Clare, whose gender puzzles him. But the narrow corridor confines his movement. Clare attacks, but the Quicksword fails to penetrate his armor.[10]
Downstairs, the mysterious girl notices the commotion above. But she returns her attention to Jean. She tries to persuade Jean to awaken and join her, but Jean refuses, wishing to live for humans.[11]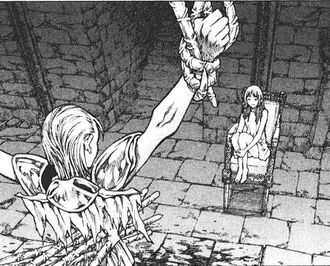 Jean

Surprise caller
Edit
Upstairs, the combat continues. Dauf fires a rod that hits Clare's leg, disabling her. He picks Clare up by the head with the intent to discover her gender.[12]
But an unknown Claymore warrior enters unafraid into the corridor. This interrupts Dauf's interrogation.[13]
Additional details
Edit
In an exercise in artistic license, both the castle corridor and Dauf will increase in size during the "Witch's Maw" and "Purgatory" arcs
The flying Yoma rod is introduced in this scene
Cover artEdit

Monthly Shōnen Jump January 2005

References
Edit
Tankōbon Claymore volumes cited are VIZ Media (en-us) editions, unless otherwise noted. Manga scenes (chapters) not yet translated cite Shueisha tankōbon (ja) editions. Manga scenes not yet published in tankōbon form cite Jump SQ (ja) editions. Fragments of Silver Omnibus (総集編 銀の断章 Gin no Danshou) 1–3, Shueisha, are only available in Japanese. Anime scenes (episodes) cited are FUNimation (en-us) editions, unless otherwise noted.
Ad blocker interference detected!
Wikia is a free-to-use site that makes money from advertising. We have a modified experience for viewers using ad blockers

Wikia is not accessible if you've made further modifications. Remove the custom ad blocker rule(s) and the page will load as expected.