Scene 44

Galatea's spell

Original magazine title

美しき妖術[1] Utsukushiki yōjutsu (The beautiful spell)

Issue, release date

February 2005, January 2005

Tankōbon title

魔女の顎門 IV[2] Majo no Agito IV, volume 8

US tankōbon title

The Witch's Maw, Part 4[3]

New character

N/A

Quote

Didn't you say you were going to strip me naked, tear off my limbs, rip open my belly and suck out my guts?[4]

Region

Locale

Abandoned castle in Zakol Mountains[6]

Anime arc

Next scene

Previous scene
Cold open
Edit
A beautiful but unknown Claymore warrior is strangely unafraid of Dauf. But Clare notices her symbol—she is No. 3, Galatea.[7]
Rescue interrupted
Edit
Dauf decides to crush Clare's head and capture Galatea. But when Galatea smiles at Dauf, she seems to cast a spell over him. He loses his grip, dropping Clare into Galatea's waiting arms.[8]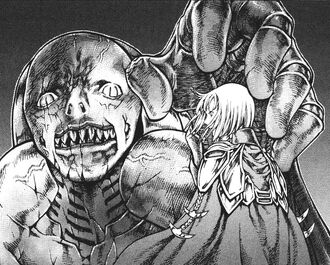 Losing control

Dauf tries questioning Galatea, but she ignores him as she tries to leave. Angered for being snubbed, he fires rods at Galatea, but they all mysteriously miss.[9]
Clare guesses that Galatea is controlling Dauf through a sensing technique (Yoma Energy Alignment and Control).[10]
Galatea tries to leave, but Dauf caves-in the entrance by launching one big rod at the ceiling. Galatea now admits to Dauf having a brain.[11]
In the ensuing fight, Dauf's rods continue to miss Galatea, who then cuts off his hand, reversing Dauf's promise to tear off Galatea's limbs. Clare is amazed.[12]
Spectator
Edit
The young girl appears on the scene, but not as a participant. She admires Galatea, but admits she does not take much pride in Dauf as a domestic partner.[13]
Additional details
Edit
Artistic license is taken in depicting the castle corridor. Its size increases many-fold from Scene 43 to the current scene to accommodate the increasing awakened size of Dauf
Cover artEdit

Monthly Shōnen Jump February 2005

References
Edit
Tankōbon Claymore volumes cited are VIZ Media (en-us) editions, unless otherwise noted. Manga scenes (chapters) not yet translated cite Shueisha tankōbon (ja) editions. Manga scenes not yet published in tankōbon form cite Jump SQ (ja) editions. Fragments of Silver Omnibus (総集編 銀の断章 Gin no Danshou) 1–3, Shueisha, are only available in Japanese. Anime scenes (episodes) cited are FUNimation (en-us) editions, unless otherwise noted.
Ad blocker interference detected!
Wikia is a free-to-use site that makes money from advertising. We have a modified experience for viewers using ad blockers

Wikia is not accessible if you've made further modifications. Remove the custom ad blocker rule(s) and the page will load as expected.