Scene 46

Jean awakened

Original magazine title

燃焼する意志[1] Nenshō suru ishi

Issue, release date

April 2005, March 2005

Tankōbon title

深き淵の煉獄 I[2] Fukaki Fuchi no Rengoku I, volume 9

US tankōbon title

The Deep Abyss of Purgatory, Part 1[3]

New character

N/A

Quote

Is she an acquaintance of yours?[4]

Region

Locale

Abandoned castle in Zakol Mountains[6]

Anime arc

Next scene

Previous scene
Cold open
Edit
Riful asks Clare if she knows the identity of the female awakened in the north. Clare refuses to answer, demanding to know who and where her male partner is. Riful offers to tell if Clare can strike Riful with her sword.[7]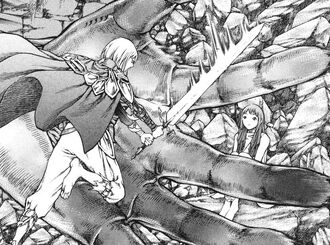 Strike

Clare tries to strike Riful, but Dauf blocks her move.[8]
Clare's attack
Edit
Dauf tries to catch Clare, but like a fly, she darts about him. When Clare block a Yoma rod with her sword, she begins to awaken. Before she can fully awake, Galatea grabs Clare's sword and throws her down the corridor.[9]
There, Galatea restrains Clare and uses Yoma Energy Alignment and Control to bring Clare back to normal.[10]
Galatea explains that Riful was trying to trick Clare into awakening with her proffer. Galatea gambles that Riful will continue to be a spectator only. If so, then their only chance to survive is to retrieve Jean, who can drill through Dauf's armor.[11]
Galatea orders Clare to find and bring back Jean, while Galatea holds off Dauf.[12]
Jean awakened
Edit
After a search downstairs, Clare finds Jean, awakened into a butterfly form. Jean pleads to be euthanized, but Clare tries replicating Galatea's technique of realigning Yoma energy.[13]
Clare strains trying to bring Jean back—Yoma power explodes.[14]
Additional details
Edit
Cover artEdit

Monthly Shōnen Jump April 2005

References
Edit
Tankōbon Claymore volumes cited are VIZ Media (en-us) editions, unless otherwise noted. Manga scenes (chapters) not yet translated cite Shueisha tankōbon (ja) editions. Manga scenes not yet published in tankōbon form cite Jump SQ (ja) editions. Fragments of Silver Omnibus (総集編 銀の断章 Gin no Danshou) 1–3, Shueisha, are only available in Japanese. Anime scenes (episodes) cited are FUNimation (en-us) editions, unless otherwise noted.
Ad blocker interference detected!
Wikia is a free-to-use site that makes money from advertising. We have a modified experience for viewers using ad blockers

Wikia is not accessible if you've made further modifications. Remove the custom ad blocker rule(s) and the page will load as expected.