Scene 48

Clearing the way

Original magazine title

大剣の呼応[1] Daiken no koō

Issue, release date

June 2005, May 2005

Tankōbon title

深き淵の煉獄 III[2] Fukaki Fuchi no Rengoku III, volume 9

US tankōbon title

The Deep Abyss of Purgatory, Part 3[3]

New character

N/A

Quote

And considering it's a borrowed right arm...she's holding up rather well.[4]

Region

Locale

Abandoned castle in Zakol Mountains[6]

Anime arc

Next scene

Previous scene
Cold open
Edit
Riful orders Dauf not to kill the Claymore warriors.[7]
Paving way for attack
Edit
While Clare distracts Dauf with her Quicksword, Jean winds up her sword-arm. But instead of the regular 15 twists, Jean does 21. By the time Dauf notices, it is too late to stop Jean.[8]
Clare sends Jean on her attack.[9] Clare reflects on her previous error of allowing Ilena's arm to strike blindly. This time, Clare's Preemptive Sensing must guide the Quicksword.[10]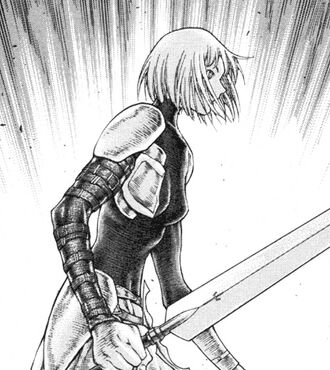 Round IV

Clare follows Jean as they lunge toward Dauf, who tries to crush Jean between his wrist stump and left hand. Clare beats both back with Quicksword as the sword is guided by following Dauf's Yoma power flow.[11]
Counter-attack
Edit
Dauf opens his mouth, about to fire a rod at Jean. But Galatea, though still down, uses her Yoma energy alignment and control to shut Dauf's jaws.[12]
Drill Sword
Edit
Jean finally drills through base of Dauf's throat.[13]
Additional details
Edit
The corridor height in this scene is approximately 4 stories high, up from one story when Clare enters the Witch's Maw in Scene 43
The corridor expands in proportion with Dauf's increasing height
Cover artEdit
References
Edit
Tankōbon Claymore volumes cited are VIZ Media (en-us) editions, unless otherwise noted. Manga scenes (chapters) not yet translated cite Shueisha tankōbon (ja) editions. Manga scenes not yet published in tankōbon form cite Jump SQ (ja) editions. Fragments of Silver Omnibus (総集編 銀の断章 Gin no Danshou) 1–3, Shueisha, are only available in Japanese. Anime scenes (episodes) cited are FUNimation (en-us) editions, unless otherwise noted.
Ad blocker interference detected!
Wikia is a free-to-use site that makes money from advertising. We have a modified experience for viewers using ad blockers

Wikia is not accessible if you've made further modifications. Remove the custom ad blocker rule(s) and the page will load as expected.