Scene 49

Riful awakened

Original magazine title

深遠の力[1] Shin'en no chikara (Power of the abyssal)

Issue, release date

July 2005, June 2005

Tankōbon title

深き淵の煉獄 IV[2] Fukaki Fuchi no Rengoku IV, volume 9

US tankōbon title

The Deep Abyss of Purgatory, Part 4[3]

New character

Alicia

Quote

So this is the power of the "Creature of the Abyss."[4]

Region

Locale

Abandoned castle in Zakol Mountains[6]

Anime arc

Next scene

Previous scene
Cold open
Edit
Jean drills through the base of Dauf's throat.[7]
End of battle
Edit
Jean is about to decapitate Dauf. But tentacles grab Jean and slam her senseless into the rubble. Riful has partially awakened.[8]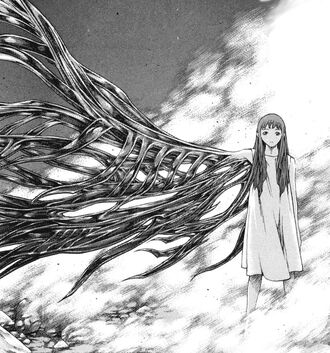 Referee

She apologizes for not letting the warriors have the final victory, but she must call an end to the fight. Although Riful is not proud of Dauf, "he's still my man."[9]
Sword attackEdit
Before Galatea can stop her, Clare attacks Riful and scores a sword blow, the blade penetrating the skull. Uninjured, Riful begins to unravel into ribbons. She gives Clare a point for scoring a hit.[10]
Riful fully awakens, the castle bursting apart. Everyone finds themselves in broad daylight.[11]
Promise keeperEdit
Up in the sky, Riful has the appearance of a brittle star. Up-close, she appears as a half-mermaid, half octopus. Clare can only gape in awe, now understanding the power of an Abyssal One.
Riful credits the warriors for not breaking under pressure, despite her best efforts. For scoring a hit, she names Priscilla's partner—Isley, the "Silver King" of the northern region of Alfons.[12]
Riful suddenly disappears skyward with Dauf.[13]
Galatea retreatsEdit
Galatea tries to take Clare, but Jean blocks her way. Rather than fight, Galatea says she will report Clare and Jean dead. She only asks that Clare and Jean stay alive.[14]
Clare's last words: We'll meet again, Galatea.[15]
At Organization Headquarters, an unknown warrior is sensing Riful. A Man in Black asks if she is ready to fight Riful. She says not yet. She needs more time.[16]
The man reveals her name—No. 1, Alicia.[17]
Additional details
Edit
Cover artEdit
References
Edit
Tankōbon Claymore volumes cited are VIZ Media (en-us) editions, unless otherwise noted. Manga scenes (chapters) not yet translated cite Shueisha tankōbon (ja) editions. Manga scenes not yet published in tankōbon form cite Jump SQ (ja) editions. Fragments of Silver Omnibus (総集編 銀の断章 Gin no Danshou) 1–3, Shueisha, are only available in Japanese. Anime scenes (episodes) cited are FUNimation (en-us) editions, unless otherwise noted.
Ad blocker interference detected!
Wikia is a free-to-use site that makes money from advertising. We have a modified experience for viewers using ad blockers

Wikia is not accessible if you've made further modifications. Remove the custom ad blocker rule(s) and the page will load as expected.