Scene 55

Raki escapes

Original magazine title

戦士の絆[1] Senshi no kizuna (Bonds of the warriors)

Issue, release date

January 2006, December 2005

Tankōbon title

北の戦乱 VI[2] Kita no Senran VI, volume 10

US tankōbon title

The Battle of the North, Part 6[3]

New character

Isley (unnamed)

Quote

It's perfectly natural to always want to stay alive. We're only human, after all.[4]

Region

Locale

Village of Pieta[6]

Anime arc

Next scene

Previous scene
Cold open
Edit
Flora tests Clare's ability in a sword-match, the action in deadly earnest.[7]
Match test
Edit
Clare holds back. But Flora insists that Clare go all out with her Quicksword against Flora's Windcutter. Flora is rethinking the team leadership formation. She needs to know Clare's true strength.[8]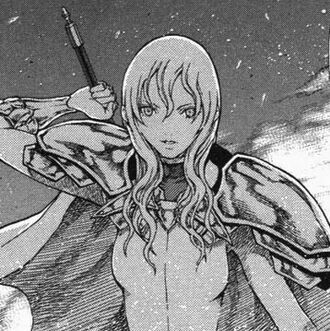 Flora's challenge

Flora implies that Clare may even replace Flora as team captain.[9]
The confrontation continues inside the shed behind the Eastern Inn.
ConfessionEdit
Deneve guesses Undine's past.[10]
Deneve then reveals her past—how a Yoma killed her parents and older sister. How afraid she was as she watched her sister being killed. And how afraid she was to die after becoming a Claymore warrior.[11]
But that a friend (possibly Helen) told her it is human to want to live.[12]
Deneve says other warriors will help Undine do what she cannot do by herself.[13]
The sword-match leaves both Flora and Clare exhausted, with neither a clear winner. Clare gives the edge to the precision of Flora's Windcutter, but Flora concedes her title of the fastest sword to Clare.[14]
After separating from Clare in Scene 34,[15] Raki reappears wandering through the wreckage of an Alfons village. He saves a young girl from falling debris. The girl bonds with him immediately.[16] An adult male finds them. He appears to be the girl's parent. He offers to take Raki home. But the man reveals the name of the girl—Priscilla.[17]
Additional details
Edit
References
Edit
Tankōbon Claymore volumes cited are VIZ Media (en-us) editions, unless otherwise noted. Manga scenes (chapters) not yet translated cite Shueisha tankōbon (ja) editions. Manga scenes not yet published in tankōbon form cite Jump SQ (ja) editions. Fragments of Silver Omnibus (総集編 銀の断章 Gin no Danshou) 1–3, Shueisha, are only available in Japanese. Anime scenes (episodes) cited are FUNimation (en-us) editions, unless otherwise noted.
Ad blocker interference detected!
Wikia is a free-to-use site that makes money from advertising. We have a modified experience for viewers using ad blockers

Wikia is not accessible if you've made further modifications. Remove the custom ad blocker rule(s) and the page will load as expected.