Scene 56

Priscilla and Raki

Original magazine title

ピエタへ[1] Pieta e (Into Pieta)

Issue, release date

February 2006, January 2006

Tankōbon title

北の戦乱 VII[2] Kita no Senran VII, volume 10

US tankōbon title

The Battle of the North, Part 7[3]

New character

Isley, Rigaldo

Quote

And now...they're coming.[4]

Region

Locale

Isley's house, village of Pieta[6]

Anime arc

Next scene

Previous scene
Cold open
Edit
Raki awakes, surprised Priscilla is asleep in bed with him. Outside his bedroom, Raki finds Priscilla's "guardian" practicing with Raki's sword from Rabona[7]
Soldier's pastEdit
Raki is impressed by the display of swordsmanship. On questioning, the man admits being a soldier in the past.[8]
Way of the swordEdit
Raki asks if the man could teach him sword-fighting. The man tests Raki's reflexes, but Raki does not flinch.[9]
The man asks Raki his name, then reveals his—Isley of Alfons.[10]
Into Pieta
Edit
In his office, Isley meets his lieutenant, Rigaldo. Rigaldo reports that the three scouts sent to Pieta are missing. Isley assumes that the Claymore warriors killed them.[11]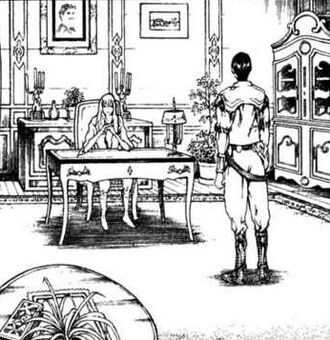 Chain of command

He orders Rigaldo to lead the Northern Army—27 awakened beings—into Pieta and annihilate the village.[12]
Tabitha reports to Miria that the villagers have been evacuated. The battle group now await the Northern Army.[13]
Additional details
Edit
References
Edit
Tankōbon Claymore volumes cited are VIZ Media (en-us) editions, unless otherwise noted. Manga scenes (chapters) not yet translated cite Shueisha tankōbon (ja) editions. Manga scenes not yet published in tankōbon form cite Jump SQ (ja) editions. Fragments of Silver Omnibus (総集編 銀の断章 Gin no Danshou) 1–3, Shueisha, are only available in Japanese. Anime scenes (episodes) cited are FUNimation (en-us) editions, unless otherwise noted.
Ad blocker interference detected!
Wikia is a free-to-use site that makes money from advertising. We have a modified experience for viewers using ad blockers

Wikia is not accessible if you've made further modifications. Remove the custom ad blocker rule(s) and the page will load as expected.