Scene 57

Veronica

Original magazine title

獰猛なる爪[1] Dōmōnaru tsume

Issue, release date

March 2006, 6 February 2006

Tankōbon title

ピエタ侵攻 I[2] Pieta Shinkō I, volume 10

US tankōbon title

The Assault on Pieta, Part 1[3]

New character

N/A

Quote

By the time we get there, it will be all over.[4]

Region

Locale

Village of Pieta[6]

Anime arc

Next scene

Previous scene
Cold open
Edit
On horseback, Isley looks down into the frozen valley. Accompanying him on ponies are Priscilla and Raki. Isley observes the Yoma auras of the Claymore warriors going out.[7]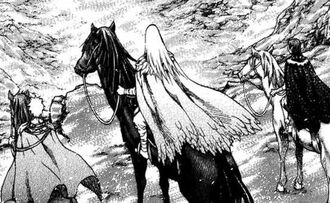 Observing the final engagement

He notes how precious is something so temporary as life.
CounterattackEdit
The second engagement of Pieta is in progress. Team Veronica fights a three-eye humanoid awakened, who attacks with tentacle tongues. Team Undine fights the Mannequin awakened.[8]
Team JeanEdit
Natalia and Deana attack Tyrannosaur awakened. Distracted, he notices too late Jean's oncoming Drill Sword. She eviscerates his body and kills him.[9]
Team FloraEdit
The Stegosaur awakened pursues Lily and Wendy. They land on a roof. But as he lands, Flora and Clare crash through from below and chop up his front legs.[10]
Body countEdit
The Northern Army field commander, Rigaldo, adds up the body count: the Organization battle group has lost five warriors to the Northern Army's three.
He recognizes the battle group strategy—small teams, working independently when possible, yet together when necessary. He further senses the five strong auras of the team captains. To counter this deteriorating situation, he decides to decapitate the leadership. He awakens as the Silver Lion.[11]
Five targetsEdit
Rigaldo cuts Veronica in two. Cynthia tries to attack, but he disappears. Then he cuts up Undine. Jean counterattacks. He dodges and impales Jean and tosses her aside. Clare attacks, but he shoves her away, then splits Flora vertically in half.[12]
The warriors look on helplessly as he again disappears.[13]
Rigaldo finally pursues Miria. But he now faces the original Paburo hunt four.[14]
Additional details
Edit
References
Edit
Tankōbon Claymore volumes cited are VIZ Media (en-us) editions, unless otherwise noted. Manga scenes (chapters) not yet translated cite Shueisha tankōbon (ja) editions. Manga scenes not yet published in tankōbon form cite Jump SQ (ja) editions. Fragments of Silver Omnibus (総集編 銀の断章 Gin no Danshou) 1–3, Shueisha, are only available in Japanese. Anime scenes (episodes) cited are FUNimation (en-us) editions, unless otherwise noted.
Ad blocker interference detected!
Wikia is a free-to-use site that makes money from advertising. We have a modified experience for viewers using ad blockers

Wikia is not accessible if you've made further modifications. Remove the custom ad blocker rule(s) and the page will load as expected.