Scene 59

Clare awakened

Original magazine title

臨界点[1] Rinkai-ten (Critical point)

Issue, release date

May 2006, 6 April 2006

Tankōbon title

ピエタ侵攻 III[2] Pieta Shinkō III, volume 11

US tankōbon title

The Assault on Pieta, Part 3[3]

New character

N/A

Quote

I need more power!

Region

Locale

Village of Pieta[5]

Anime arc

Next scene

Previous scene
Cold open
Edit
Both Helen and Rigaldo look on in disbelief—Clare cut off Rigaldo's arm.[6]
Clare's awakened legs appear as a cross of a horse and pterodactyl.[7]
Clare's attack
Edit
She charges Rigaldo like a bull, but cannot control her speed and crashes into buildings.[8]
Rigaldo tries to retrieve his arm, but Helen, guessing he is an offensive type, snatches it and Miria and escapes.[9] Again Clare attacks, but he dodges her.
Attention
Edit
Helen inadvertently calls attention to herself and Miria with a Limb Stretching attack. Rigaldo counterattacks, but is forced to dodge Clare's sword strike instead. Clare is gaining control of her speed.[10]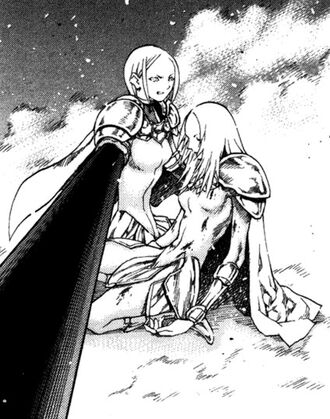 Limb stretching

Awakened arms
Edit
Clare's left arm spouted several bladed mandibles, forming a great claw, which she gouges into the ground, enabling her to stop and turn in any direction. She now controls her speed.[11]
Rigaldo looks on with admiration and amazement, as Clare shreds him to pieces.[12]
7-year timeskip
Edit
Miria remembers Clare's use of her claw when the Ghosts fight Hysteria in Sutafu.[13]
Additional details
Edit
Cover artEdit
References
Edit
Tankōbon Claymore volumes cited are VIZ Media (en-us) editions, unless otherwise noted. Manga scenes (chapters) not yet translated cite Shueisha tankōbon (ja) editions. Manga scenes not yet published in tankōbon form cite Jump SQ (ja) editions. Fragments of Silver Omnibus (総集編 銀の断章 Gin no Danshou) 1–3, Shueisha, are only available in Japanese. Anime scenes (episodes) cited are FUNimation (en-us) editions, unless otherwise noted.
Ad blocker interference detected!
Wikia is a free-to-use site that makes money from advertising. We have a modified experience for viewers using ad blockers

Wikia is not accessible if you've made further modifications. Remove the custom ad blocker rule(s) and the page will load as expected.