Scene 6

Clare amid rooftops of Rabona

Original magazine title

TBA[1]

Issue, release date

December 2001, November 2001

Tankōbon title

まほろばの闇 II[2] Mahoroba no yami II (Darkness of mahoroba II), volume 2

US tankōbon title

Darkness in Paradise, Part 2[3]

New character

Bishop Kamuri, Father Rodo, Captain Ganesu, Voracious Eater

Quote

A Yoma in disguise can even fool family members.[4]

Region

Locale

Holy City of Rabona[6]

Anime arc

Next scene

Previous scene
Cold open
Edit
Nighttime. Two guards inside the cathedral argue about an intruder's presence. One guard is decapitated. The other guard does not see the Voracious Eater until it is too late.[7]
Interrogation
Edit
The next morning at the inn, Raki warns Clare that her eyes are silver again. She takes her suppressant. As the medicine takes effect, she can detect the Yoma moving inside the cathedral.
Suddenly, three guards burst into the room. They announce the death of the two guards and seize Clare and Raki as suspects. Then Galk and Sid arrive.[8]
Sid interrogates Clare, suspecting her of being a Claymore, but her eye color has changed to "normal." Sid is still suspicious and suspects a trick, but Raki creates a diversion. Sid tries to hit Raki, but Galk stops him. The guards finally leave.[9]
Cathedral
Edit
Father VincentEdit
Later that day, Clare later visits Father Vincent in the baptismal hall. He reiterates about the two murdered guards from last night. Aside from the guards who are regularly rotated, Vincent estimates ten church personnel were in the cathedral last night. Clare realizes that the Yoma must be living inside the cathedral and could be any one of the ten.[10]
Night visitEdit
Clare again travels by rooftop to the cathedral. This time, Galk and Sid are expecting her. They intercept Clare and a fight ensues. But during the fight, a scream comes from the cathedral.[11]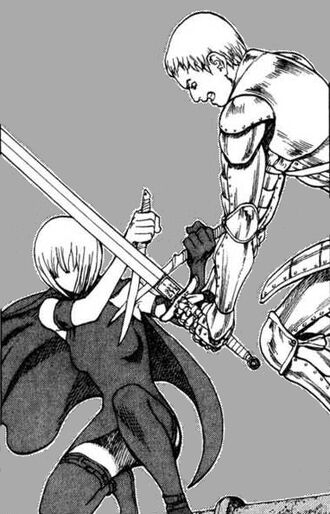 Clare versus Galk

Clare ignores Galk and Sid and races into the cathedral, the entrance guards seeing only a blur. Inside the nave, she confronts the Voracious Eater. Galk and Sid enter the nave as Clare combats the Yoma.[12]
Additional details
Edit
Sid says he can sense Clare's Yoma aura, an ability some humans have in the Claymoreverse
Cover artEdit

Monthly Shōnen Jump December 2001

References
Edit
Tankōbon Claymore volumes cited are VIZ Media (en-us) editions, unless otherwise noted. Manga scenes (chapters) not yet translated cite Shueisha tankōbon (ja) editions. Manga scenes not yet published in tankōbon form cite Jump SQ (ja) editions. Fragments of Silver Omnibus (総集編 銀の断章 Gin no Danshou) 1–3, Shueisha, are only available in Japanese. Anime scenes (episodes) cited are FUNimation (en-us) editions, unless otherwise noted.
Ad blocker interference detected!
Wikia is a free-to-use site that makes money from advertising. We have a modified experience for viewers using ad blockers

Wikia is not accessible if you've made further modifications. Remove the custom ad blocker rule(s) and the page will load as expected.