Scene 60

Sacrifice

Original magazine title

死線の刃[1] Shisen no ha

Issue, release date

June 2006, 2 May 2006

Tankōbon title

ピエタ侵攻 VI[2] Pieta Shinkō VI, volume 11

US tankōbon title

The Assault on Pieta, Part 4[3]

New character

N/A

Quote

Thank you, Clare...I'm glad I met you.[4]

Region

Locale

Village of Pieta[6]

Anime arc

Next scene

Previous scene
Cold open
Edit
The minced body of Rigaldo collapses in snow, Helen, Deneve and Miria all watching in amazement.[7]
Point of no return
Edit
But Clare cannot revert from her awakened form. She now pleads with Helen to euthanize her while her mind is still human. With her Flexible Limb Stretching, Helen is about to behead Clare. In tears, Helen says she will never forgive Clare for making her do this.[8]
Sacrifice
Edit
But Jean stops Helen. Jean deliberately impales herself on Clare's mandibles and realigns her Yoma energy with Clare's. Clare protests as a vortex swirls about them—Yoma power explodes.[9]
Last stand
Edit
Vapors clear—Clare is back to normal, while Jean lies dead. As Clare grieves, Northern Army surrounds her, Miria, Cynthia, Deneve, Helen and Zelda.[10] Miria can sense the auras of only six warrors. Deneve apologizes to Undine's body as Deneve picks up Undine's sword.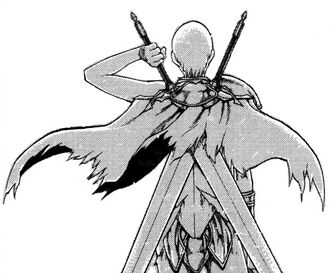 Deneve adopts Undine's sword

Miria tells everyone to get ready for the end.[11]
Additional details
Edit
Cover artEdit
References
Edit
Tankōbon Claymore volumes cited are VIZ Media (en-us) editions, unless otherwise noted. Manga scenes (chapters) not yet translated cite Shueisha tankōbon (ja) editions. Manga scenes not yet published in tankōbon form cite Jump SQ (ja) editions. Fragments of Silver Omnibus (総集編 銀の断章 Gin no Danshou) 1–3, Shueisha, are only available in Japanese. Anime scenes (episodes) cited are FUNimation (en-us) editions, unless otherwise noted.
Ad blocker interference detected!
Wikia is a free-to-use site that makes money from advertising. We have a modified experience for viewers using ad blockers

Wikia is not accessible if you've made further modifications. Remove the custom ad blocker rule(s) and the page will load as expected.