Scene 65

Shadow-chaser

Original magazine title

北の終焉[1] Kita no shūen

Issue, release date

November 2006, 6 October 2006

Tankōbon title

魂と共に I[2] Tamashii to Tomo ni I, volume 12

US tankōbon title

The Souls of the Fallen, Part 1[3]

New character

Clarice, Nina, two unnamed warriors

Quote

That must be...the last town, Pieta.[4]

Region

Locale

Pieta,[6] Dabi

Next scene

Previous scene
Cold open
Edit
A Claymore warrior, Clarice, approaches Pieta.[7]
Clarice proceeds farther north, reaching the village of Dabi. At a darkened house, she meets the waiting Dabi hunt, lead by warrior No. 9, Nina.[8]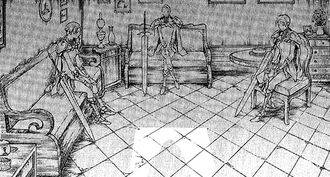 Dabi hunt

After learning Clarice is No. 47, Nina and the hunt leave in disgust.[9]
Awakened hunt
Edit
Up in the mountains, Clarice tries to keep up with the hunt. Nina has one unnamed warrior explain to Clarice that after the Battle of the North, the Organization began to hunt awakened beings proactively. The hunt is attacked by a cricket-like awakened.[10]
Nina uses Shadow-chaser and cuts off the arms of the awakened, who now appears doomed. But two other awakened take the hunt by surprise. Barbed projectiles take down the entire hunt. The four warriors are left unconscious. Clarice is about to be eaten.[11]
The warriors are mysteriously saved, when an unseen force destroys the three awakened beings.[12]
Clarice regains consciousness and explores her immediate surroundings. The awakened have mysteriously disappeared. Only pools of blood remain. She searches the area farther and comes across a field of swords—the grave-marks of the warriors from the Battle of the North.[13]
The graveyard resembles the "Hill of Swords"[14] from Berserk series.
Additional details
Edit
Cover artEdit

Monthly Shōnen Jump November 2006

References
Edit
Tankōbon Claymore volumes cited are VIZ Media (en-us) editions, unless otherwise noted. Manga scenes (chapters) not yet translated cite Shueisha tankōbon (ja) editions. Manga scenes not yet published in tankōbon form cite Jump SQ (ja) editions. Fragments of Silver Omnibus (総集編 銀の断章 Gin no Danshou) 1–3, Shueisha, are only available in Japanese. Anime scenes (episodes) cited are FUNimation (en-us) editions, unless otherwise noted.
Ad blocker interference detected!
Wikia is a free-to-use site that makes money from advertising. We have a modified experience for viewers using ad blockers

Wikia is not accessible if you've made further modifications. Remove the custom ad blocker rule(s) and the page will load as expected.