Scene 69

Riful under attack

Original magazine title

抗しうる者[1] Kō shi uru mono

Issue, release date

March 2007, 6 February 2007

Tankōbon title

抗しうる者 II[2] Kōshi-urumono II, volume 12

US tankōbon title

The Defiant Ones, Part 2[3]

New character

N/A

Quote

Even if my blade can't pierce you, your own blades can.[4]

Region

Locale

Forest

Next scene

Previous scene
Cold open
Edit
Clare remotely senses Riful of the West.[6]
Abyssal greeting
Edit
Riful greets members of Audrey's hunt.[7]
The hunt captain introduces herself as No. 3, Audrey. And the next ranking warrior as No. 5, Rachel.[8]
Rachel proceeds to use Strong Sword on Riful, while Audrey uses Gentle Sword.[9]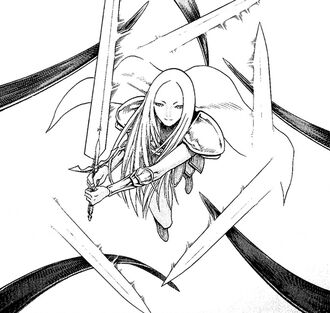 Gentle Sword

Realization
Edit
Miria realizes that Audrey and Rachel are no match for Riful. She orders Deneve, Helen and Clare to accompany her. They rush to save Audrey and Rachel from themselves.[10]
Riful's game
Edit
She continues to toy with Audrey and Rachel, allowing them to think they are hurting her.[11]
Additional details
Edit
Cover artEdit
A small image of Clare appears on the front panel of the cover.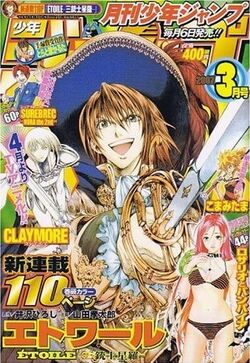 Monthly Shōnen Jump March 2007

References
Edit
Tankōbon Claymore volumes cited are VIZ Media (en-us) editions, unless otherwise noted. Manga scenes (chapters) not yet translated cite Shueisha tankōbon (ja) editions. Manga scenes not yet published in tankōbon form cite Jump SQ (ja) editions. Fragments of Silver Omnibus (総集編 銀の断章 Gin no Danshou) 1–3, Shueisha, are only available in Japanese. Anime scenes (episodes) cited are FUNimation (en-us) editions, unless otherwise noted.
Ad blocker interference detected!
Wikia is a free-to-use site that makes money from advertising. We have a modified experience for viewers using ad blockers

Wikia is not accessible if you've made further modifications. Remove the custom ad blocker rule(s) and the page will load as expected.