Scene 8

Raki in baptismal hall

Original magazine title

TBA[1]

Issue, release date

February 2002, January 2002

Tankōbon title

まほろばの闇 IV[2] Mahoroba no yami IV (Darkness of mahoroba IV), volume 2

US tankōbon title

Darkness in Paradise, Part 4[3]

New character

N/A

Quote

It could even be a dead body.[4]

Region

Locale

Holy City of Rabona[6]

Anime arc

Next scene

Previous scene
Cold open
Edit
Nighttime. The cathedral staff have a surprise meeting. Fathers Pario and Serene enter the great hall.
The locale puzzles them as the hall is empty and isolated. But as the doors open, they see the hall lined with guards.[7]
Everyone a suspect
Edit
Father RodoEdit
Father Vincent calls the cathedral staff to order. He describes the dire situation with the Yoma. But since all now present were also present inside the building during the murders, everyone is now a suspect.[8]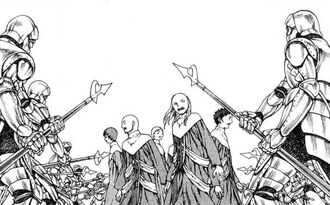 The suspects

Father Rodo, assistant to Bishop Kamuri, takes umbrage at Vincent's actions.
Clare, not fully recovered from her injuries, exams each suspect, trying to find the Voracious Eater. The plan is once she finds the Yoma, the soldiers spear the two together.[9]
Rodo is even more outraged. But Clare exams him and works her way through the entire staff. Though everyone has the Yoma scent, none have the aura.[10]
Finally, she exams Kamuri and even Vincent. But to no avail. Yet logically, the Yoma must be hiding somewhere in the cathedral.[11]
RealizationEdit
The situation turns ugly as Rodo denounces Vincent.[12]
Clare finally reaches the last possibility. If Yoma can impersonate the living, what if one impersonates the dead?[13]
In the baptismal hall, Raki paces about. He sits on the edge of a coffin, but falls atop the mummy. Raki scrambles out, but he is unaware that the "mummy" is rising from the coffin. Meanwhile, Clare races downstairs to the baptismal hall.[14]
Additional details
Edit
Bishop Kamuri also resembles the village elder of Angel Densetsu[16]
Cover artEdit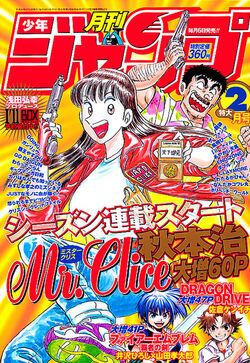 Monthly Shōnen Jump February 2002

References
Edit
Tankōbon Claymore volumes cited are VIZ Media (en-us) editions, unless otherwise noted. Manga scenes (chapters) not yet translated cite Shueisha tankōbon (ja) editions. Manga scenes not yet published in tankōbon form cite Jump SQ (ja) editions. Fragments of Silver Omnibus (総集編 銀の断章 Gin no Danshou) 1–3, Shueisha, are only available in Japanese. Anime scenes (episodes) cited are FUNimation (en-us) editions, unless otherwise noted.
Ad blocker interference detected!
Wikia is a free-to-use site that makes money from advertising. We have a modified experience for viewers using ad blockers

Wikia is not accessible if you've made further modifications. Remove the custom ad blocker rule(s) and the page will load as expected.