Scene 83

Cynthia's map with re-translated dialog

Original magazine title

再会の目途[1] Saikai no Mokuto

Issue, release date

October 2008, 4 September 2008

Tankōbon title

大地の鬼哭 I[2] Daichi no Kikoku I, volume 15

US tankōbon title

The Lamentation of the Earth, Part 1[3]

New character

Lena, Norma

Quote

It's been seven years, hasn't it. Glad to see you're still alive...Clare.[4]

Region

Locale

Village of Lacroix[6]

Next scene

Previous scene
Cold open
Edit
Cynthia, Yuma and Clare finally reach the border of western region of the island. This region is called Lautrec.[7]
Island world
Edit
Cynthia draws two maps of Celtic cross-shaped island. She first divides the island into four quadrants—one each for the three Abyssal Ones and the Organization.[8]
Then she draws a 5-region map—north, east, south and west. The central region she names as Toulouse (see world map).[9]
Search partyEdit
The Ghosts detect an awakened being in the eastmost village of Lacroix (unnamed).[10]
Inside Lacroix itself, disguised only in cowls, the three encounter a search and rescue team from the Organization, now looking for Renée.[11]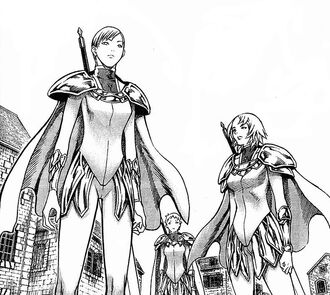 Search and rescue team

Among the crowd of spectators, a woman awakens. Clare tells Yuma to handle the search party, while she and Cynthia engages the awakened.[12]
Yuma knocks out two Claymore warriors—Norma and one unidentifed—then fights team captain, Lena. Yuma also knocks unconscious the two Men in Black.[13]
Cynthia and Clare whittle down false body of awakened—the true body tries to escape as Winged Yoma-like entity. Yuma uses a thrown sword and minces the wings. The awakened now helpless, Cynthia and Clare easily kill the awakened.[14]
Unexpected witnessEdit
But someone from Clare's past has witnessed the entire performance—Rubel.[15]
Additional details
Edit
In Lacroix village, Cynthia, Yuma and Clare being able to hide their silver eyes without aura suppressant is a continuity issue that occurs throughout the Claymore series
Cover artEdit
References
Edit
Tankōbon Claymore volumes cited are VIZ Media (en-us) editions, unless otherwise noted. Manga scenes (chapters) not yet translated cite Shueisha tankōbon (ja) editions. Manga scenes not yet published in tankōbon form cite Jump SQ (ja) editions. Fragments of Silver Omnibus (総集編 銀の断章 Gin no Danshou) 1–3, Shueisha, are only available in Japanese. Anime scenes (episodes) cited are FUNimation (en-us) editions, unless otherwise noted.
Ad blocker interference detected!
Wikia is a free-to-use site that makes money from advertising. We have a modified experience for viewers using ad blockers

Wikia is not accessible if you've made further modifications. Remove the custom ad blocker rule(s) and the page will load as expected.