Scene 85

Dietrich returns the favor

Original magazine title

護るべき大義[1] Mamorubeki Taigi

Issue, release date

December 2008, 4 November 2008

Tankōbon title

大地の鬼哭 III[2] Daichi no Kikoku III, volume 16

US tankōbon title

The Lamentation of the Earth, Part 3[3]

New character

Dietrich

Quote

We'll worry about that...when the time comes.[4]

Region

Locale

Village of Lacroix, river in Mucha

Next scene

Previous scene
Cold open
Edit
In Lacroix village, Rubel gives the three Ghosts a choice: they can either save Rafaela and Renée, or stay on the run with the implication of moral cowardice.
When he finally leaves, the warriors are left disagreeing on what they should do next. Yuma urges Clare not to attempt a rescue—they would face Riful.[7]
Next step
Edit
Clare remains uncommitted. She says they will continue traveling westward.[8]
Hunt in troubleEdit
In the southern region of Mucha, Deneve and Helen, sit cliffside, watching an awakened hunt flounder in the river below. The awakened lured the entire hunt into the water, which slows down the speed of the warriors. Two warriors are down.[9]
While watching the hunt flounder in the river, Helen reminds Deneve how Clare saved their lives during the Paburo hunt, much to Deneve embarrassment. Deneve says Clare's chief strength is "limitless, explosive power," which is both Clare's strength and weakness.[10]
The third hunt member is wounded. Now the hunt captain stands alone.[11]
Despite Miria's orders to avoid the Organization's warriors, Helen jumps into the river and joins the hunt, followed belatedly by Deneve.[12]
They try to knock unconscious the captain. But the captain rejoins the hunt. She realizes that Deneve and Helen are only trying to hide their identities.[13]
The warrior reveals her name and number: Dietrich, No. 8. She asks for help in evacuating her three wounded comrades.[14]
After rescuing the hunt members, Deneve blinds the awakened with Twin Sword, while Helen uses Drill Sword on the awakened's upper jaw.[15]
Coup de graceEdit
Dietrich finally leaps sky-high, using her "sky sword" technique. She lands a sword blow to the awakened's head, bisecting the body in two.[16]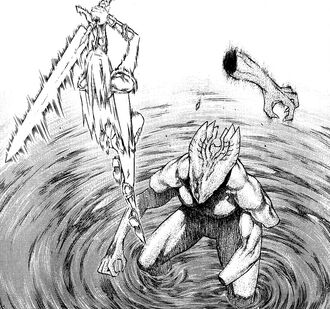 Coup de grace

Additional details
Edit
The "Dietrich" arc begins in this scene
This scene appears as a "showcase chapter" in the June 2010 issue of the US edition of Shonen Jump. This issue has adjacent "extra file" pages similar to those in Jump SQ[17]
Cover artEdit
References
Edit
Tankōbon Claymore volumes cited are VIZ Media (en-us) editions, unless otherwise noted. Manga scenes (chapters) not yet translated cite Shueisha tankōbon (ja) editions. Manga scenes not yet published in tankōbon form cite Jump SQ (ja) editions. Fragments of Silver Omnibus (総集編 銀の断章 Gin no Danshou) 1–3, Shueisha, are only available in Japanese. Anime scenes (episodes) cited are FUNimation (en-us) editions, unless otherwise noted.
Ad blocker interference detected!
Wikia is a free-to-use site that makes money from advertising. We have a modified experience for viewers using ad blockers

Wikia is not accessible if you've made further modifications. Remove the custom ad blocker rule(s) and the page will load as expected.