Scene 87

"The Exterminators"

Original magazine title

殲滅者の帰還[1] Senmetsusha no Kikan

Issue, release date

February 2009, 5 January 2009

Tankōbon title

大地の鬼哭 V[2] Daichi no Kikoku V, volume 16

US tankōbon title

The Lamentation of the Earth, Part 5[3]

New character

N/A

Quote

Now one more town...will be destroyed.[4]

Region

Locale

Unnamed village (Isley's last stand)

Next scene

Previous scene
Cold open
Edit
Dietrich sits behind a tree in a forest, as "demons" approach.[6]
One demon—a humanoid female, with eyes and mouth sewn shut—sniffs out Dietrich, who remains motionless.[7]
The demon loses interest and move on to the village.[8]
Isley and Helen fight, destroying the town. Helen is losing the fight, despite her combined Flexible Limb Stretching-Drill Sword attacks.[9]
Finally, Isley launches an annihilating blow—Helen vanishes. But a recovered Deneve grabbed Helen before Isley's strike.[10]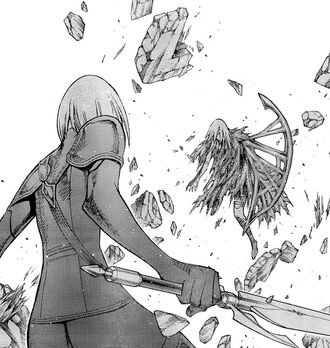 Isley versus Helen

Releasing Yoma energyEdit
Deneve's new arm surprises Helen. Deneve regenerated her arm by releasing her Yoma energy for the first time in seven years. Now she wants Helen to flee, while she decoys Isley.[11]
Helen refuses to flee. Now Helen does the same to prepare for their last combat with Isley.[12]
But the demons come to town.[13]
Additional details
Edit
Cover artEdit
Clare on front panel of cover. Original artwork on p. 058 of Memorabilia.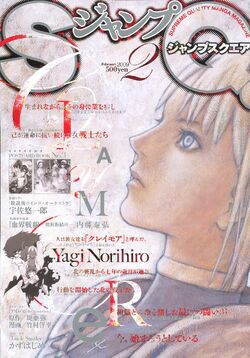 Jump SQ February 2009

References
Edit
Tankōbon Claymore volumes cited are VIZ Media (en-us) editions, unless otherwise noted. Manga scenes (chapters) not yet translated cite Shueisha tankōbon (ja) editions. Manga scenes not yet published in tankōbon form cite Jump SQ (ja) editions. Fragments of Silver Omnibus (総集編 銀の断章 Gin no Danshou) 1–3, Shueisha, are only available in Japanese. Anime scenes (episodes) cited are FUNimation (en-us) editions, unless otherwise noted.
Ad blocker interference detected!
Wikia is a free-to-use site that makes money from advertising. We have a modified experience for viewers using ad blockers

Wikia is not accessible if you've made further modifications. Remove the custom ad blocker rule(s) and the page will load as expected.