Scene 9

Clare protects Raki

Original magazine title

TBA[1]

Issue, release date

March 2002, February 2002

Tankōbon title

まほろばの闇 V[2] Mahoroba no yami V (Darkness of mahoroba V), volume 2

US tankōbon title

Darkness in Paradise, Part 5

New character

N/A

Quote

A...Claymore.[3]

Region

Locale

Holy City of Rabona[5]

Anime arc

Next scene

Previous scene
Cold open
Edit
In the baptismal hall, as Raki waits for Clare. Raki is unaware of the Voracious Eater rising from a saint's coffin. As the creature shapeshifts, he expands from a skeletal mummy into a full-muscled Yoma.[6]
Clare arrivesEdit
Raki is taken by surprise, then hurled across the hall. But before the Yoma can attack Raki, a thrown knife pierces the Yoma's arm—Clare has arrived. She orders Raki to flee, but he refuses.[7]
Extensible claws attack Clare and Raki. In avoidance of the claws, the two are separated. The Yoma uses this opportunity to attack Raki, but Galk suddenly runs interference with his sword. Sid hits the Yoma's head with thrown knives. Now the two guards and Clare attack the Yoma from all sides. But the Yoma beats them back.[8]
The Yoma seizes Galk's sword and attacks Clare, who is put on the defensive with only her knife to block the sword blows. Little progress is made, till Raki tells Galk to give Clare the goddess statue.[9]
Galk hurls the statue over the Yoma to Clare. She unwraps it. Amused at the situation, the Yoma tries to cut through the statue and Clare in one fell swoop. Instead, the statue cracks open, revealing a Claymore sword.[10]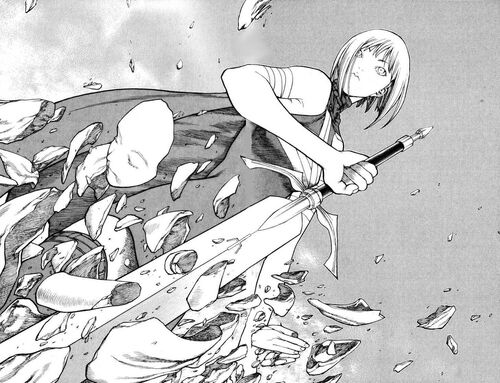 Claymore sword

Clare says the hunt for the Yoma begins now.
Additional details
Edit
Cover artEdit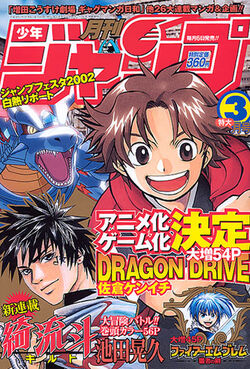 Monthly Shōnen Jump March 2002

References
Edit
Tankōbon Claymore volumes cited are VIZ Media (en-us) editions, unless otherwise noted. Manga scenes (chapters) not yet translated cite Shueisha tankōbon (ja) editions. Manga scenes not yet published in tankōbon form cite Jump SQ (ja) editions. Fragments of Silver Omnibus (総集編 銀の断章 Gin no Danshou) 1–3, Shueisha, are only available in Japanese. Anime scenes (episodes) cited are FUNimation (en-us) editions, unless otherwise noted.
Ad blocker interference detected!
Wikia is a free-to-use site that makes money from advertising. We have a modified experience for viewers using ad blockers

Wikia is not accessible if you've made further modifications. Remove the custom ad blocker rule(s) and the page will load as expected.