Scene 90

"Don't even try it."

Original magazine title

秩序亡き世界[1] Chitsujo naki Sekai

Issue, release date

May 2009, 4 April 2009

Tankōbon title

記憶の爪牙 I[2] Kioku no Sōga I, volume 17

US tankōbon title

The Claws of Memory, Part 1[3]

New character

N/A

Quote

She cut off her friend's leg![4]

Region

Locale

Holy City of Rabona,[8] forest in Lautrec

Next scene

Previous scene
Cold open
Edit
Alicia and BethEdit
From the eastern region of Sutafu, Claymore warriors No. 1 and 2, Alicia and Beth, begin their journey at high speed toward the western region of Lautrec.[9]
On a battlement of Rabona standing guard are Miria and Tabitha.[10]
Ghosts' EyesEdit
The Ghosts' Eyes, Tabitha, reports sensing two large Yoma auras traveling westward at high speed. Miria suspects Alicia and Beth. Then Galatea appears and reports sensing indications that Isley is dead. Also, that a Claymore warrior using suppressant is approaching the city.[11]
A cloaked figure (Dietrich) approaches Rabona.
In the original Japanese text, Dietrich says Rabona is in the heartland (Toulouse) of the continent[12]—instead of Rabona being dead center of continent, as in the current VIZ Media translation (see world map).[13]
ReceptionEdit
Suddenly Miria appears from behind, holding her Claymore sword at Dietrich's throat. Dietrich reveals herself and states that she carries a message.[14]
Dietrich and Galatea have a caustic exchange. Dietrich calls Galatea "Galatea the Renegade."[15] Galatea replies with "Tracker Dietrich,"[16] lampooning Dietrich's persistent behavior.
Then Dietrich gives Deneve's message: that Isley is defeated, that Deneve and Helen are heading west to find Cynthia to heal Helen's eye.[17]
Miria speculates the Organization is now after Riful.[18]
In a forest, Clare, Cynthia and Yuma encounter Dauf. They attempt to hide from him, but he finds and grabs Yuma. Clare tries to free Yuma by attacking Dauf, but his armor is too thick. Finally Clare is forced to cut off Yuma's leg, much to Dauf's surprise. Clare holds off Dauf as Cynthia escapes with Yuma.[19]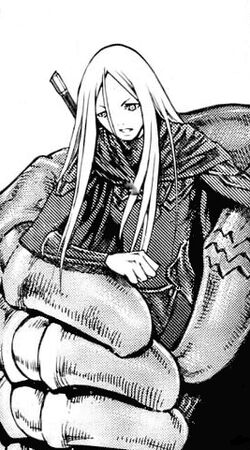 Yuma caught

Later the three warriors regroup. While Cynthia heals Yuma, Clare says she intends to follow Dauf back to Riful's lair (Witch's Maw II).[20]
Additional details
Edit
Cover artEdit
References
Edit
Tankōbon Claymore volumes cited are VIZ Media (en-us) editions, unless otherwise noted. Manga scenes (chapters) not yet translated cite Shueisha tankōbon (ja) editions. Manga scenes not yet published in tankōbon form cite Jump SQ (ja) editions. Fragments of Silver Omnibus (総集編 銀の断章 Gin no Danshou) 1–3, Shueisha, are only available in Japanese. Anime scenes (episodes) cited are FUNimation (en-us) editions, unless otherwise noted.
Ad blocker interference detected!
Wikia is a free-to-use site that makes money from advertising. We have a modified experience for viewers using ad blockers

Wikia is not accessible if you've made further modifications. Remove the custom ad blocker rule(s) and the page will load as expected.