Scene 92

Nightmare within a nightmare

Original magazine title

魂の刻印[1] Tamashī no Kokuin

Issue, release date

July 2009, 4 June 2009

Tankōbon title

記憶の爪牙 III[2] Kioku no Sōga III, volume 17

US tankōbon title

The Claws of Memory, Part 3[3]

New character

N/A

Quote

Somewhere in all these emotions you will find...the thing you must know.[4]

Region

Locale

Next scene

Previous scene
Cold open
Edit
Clare leads Jean through a forest. Clare stops, sensing a powerful Yoma aura—Rafaela appears and asks, "Which is Clare?"[8]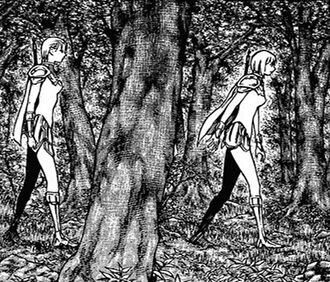 Jean follows Clare

Nightmares
Edit
Nightmare IEdit
When Clare reaches out to touch Jean, no one is there. Rafaela attacks. Clare uses her Yoma-powerless Windcutter, but is beheaded.[9]
Nightmare IIEdit
Clare awakes in darkness. The first nightmare was a dream within a dream. When Clare demands that Rafaela explain herself, Rafaela says that Clare is being presumptuous. Clare is the one who entered Rafaela's mind and brought about this situation. Everything and one they see here are being regenerated from Clare's memories.[10]
Rafaela says there is "something" that Clare must know. And adds that Clare is making "a grave mistake."[11]
But Clare has little time before Rafaela awakens. Clare must defeat Rafaela in this dream world—Clare's death here would result in her physical death.[12]
Clare resorts to Quicksword and kills Rafaela with the right arm of Ilena, who Rafaela presumably executed seven years ago.[13]
Awakening
Edit
In a Yoma power explosion, Rafaela awakens. As Clare is hurled back, all Rafaela's memories and emotions are inscribed into Clare. Among which is "the thing you must know."[14]
A montage of characters' reactions to the awakening are shown.
Cynthia and YumaEdit
While regenerating Yuma's leg, Cynthia senses Rafaela's memories and emotions streaming into Clare.[15]
Riful and Dauf notice the massive awakening.[16]
Deneve and HelenEdit
Deneve and Helen too notice the massive Yoma aura.[17]
Alicia and BethEdit
In Lautrec, Alicia and Beth report the huge aura to a Man in Black.<[18]
Raki and PriscillaEdit
In village of Ticelli, Priscilla tells Raki that something vast has awakened.[19]
Additional details
Edit
Cover artEdit
References
Edit
Tankōbon Claymore volumes cited are VIZ Media (en-us) editions, unless otherwise noted. Manga scenes (chapters) not yet translated cite Shueisha tankōbon (ja) editions. Manga scenes not yet published in tankōbon form cite Jump SQ (ja) editions. Fragments of Silver Omnibus (総集編 銀の断章 Gin no Danshou) 1–3, Shueisha, are only available in Japanese. Anime scenes (episodes) cited are FUNimation (en-us) editions, unless otherwise noted.
Ad blocker interference detected!
Wikia is a free-to-use site that makes money from advertising. We have a modified experience for viewers using ad blockers

Wikia is not accessible if you've made further modifications. Remove the custom ad blocker rule(s) and the page will load as expected.