Scene 95

Pieta redux

Original magazine title

破壊の化身[1] Hakai no Keshin

Issue, release date

October 2009, 4 September 2009

Tankōbon title

記憶の爪牙 VI[2] Kioku no Sōga VI, volume 17

US tankōbon title

The Claws of Memory, Part 6[3]

New character

Hellcats (unnamed)

Quote

The real Hell...is just beginning.[4]

Region

Locale

Forest

Next scene

Previous scene
Cold open
Edit
Deneve, Helen and Clare watch the rods awaken into feline awakened beings, similar to Luciela's awakened form. The "Hellcats" now attack.[6]
Counterattack
Edit
Tentacle attackEdit
When a Hellcat attacks Helen, Clare cuts off its arm. But from the stump shoot out tentacles, which Clare and Helen narrowly avoid.[7]
Thrown swordEdit
Deneve jumps on the back of its neck and uses Undine's old method of pushing one sword down with another. But from the opening wound, tiny rods shoot into Deneve's sword arm. The rods are parasitic—they absorb the life of any living thing they touch.[8]
As her arm awaken with rods, Deneve tears off her arm. Then using a thrown sword, she hurls her sword, with the attached arm, into the Hellcat's head.[9]
Drill SwordEdit
Helen attack the Hellcat's head with Drill Sword. But the headless creature pins down Helen. The neck stump shoots a barrage of rod—but Clare ricochets them back into the Hellcat.[10]
Hellcats surround the warriors, in a replay of the last stand at Pieta.[11]
Riful drags Dauf from Alicia and Beth. The Abyss Feeders ambush her. Riful's tries to mince them with her tentacles. Suddenly, Alicia's awakened form attacks the Feeders. The wayward attacks confuse Riful.[12]
Elsewhere, a rod has penetrated Beth. Both the rod and Beth merge and awaken together into a new entity.[13]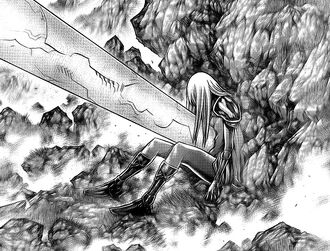 Beth awakening

Additional details
Edit
A common phrase in other contexts, "Hellcat" may have been first used in fan forums
Cover artEdit
References
Edit
Tankōbon Claymore volumes cited are VIZ Media (en-us) editions, unless otherwise noted. Manga scenes (chapters) not yet translated cite Shueisha tankōbon (ja) editions. Manga scenes not yet published in tankōbon form cite Jump SQ (ja) editions. Fragments of Silver Omnibus (総集編 銀の断章 Gin no Danshou) 1–3, Shueisha, are only available in Japanese. Anime scenes (episodes) cited are FUNimation (en-us) editions, unless otherwise noted.
Ad blocker interference detected!
Wikia is a free-to-use site that makes money from advertising. We have a modified experience for viewers using ad blockers

Wikia is not accessible if you've made further modifications. Remove the custom ad blocker rule(s) and the page will load as expected.