Scene 97

Headless "rider"

Original magazine title

窮余の紅涙[1] Kyūyo no Kōrui

Issue, release date

December 2009, 4 November 2009

Tankōbon title

ロートレクの灰燼 II[2] Rōtoreku no Kaijin II, volume 18

US tankōbon title

Ashes of Lautrec, Part 2[3]

New character

N/A

Quote

Something is holding her true energy in check. Or more like something is taking turns performing that function.[4]

Region

Locale

Forest in Lautrec

Next scene

Previous scene
Cold open
Edit
Back into human form, Alicia corners Riful and with her Claymore sword and ruthlessly cut off Riful's arm.[6]
Dual controlsEdit
Riful senses that more than one Yoma-entity is taking turns in controlling Alicia's Yoma energy.[7] Riful is unaware of Beth's merger with a parasitic rod.[8]
Riful's tentacle attack explode the ground underneath Alicia, slowing Alicia's advance. But Alicia finally reaches Riful and cuts off Riful's leg. Riful retreats, now able to stand only with help of her tentacles.[9]
AwakeningEdit
Riful cannot regenerate her missing limbs. Nor can she awaken. Alicia confronts her, but instead of attacking, Alicia struggles against awakening.[10]
Wayside fightEdit
When the awakened Beth and Priscilla meet, Beth attacks.[11]
Priscilla tears off the Claymore warrior torso on the awakened body. She drinks Beth's blood.[12]
Teresa's scentEdit
Priscilla loses interest in Beth and walks away. Priscilla's only goal is following the scent of Teresa. But Beth insists on confrontation.[13]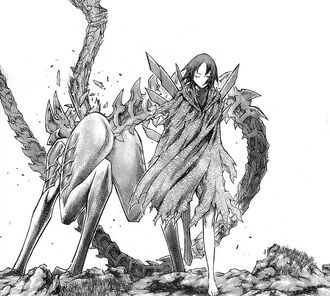 Losing interest

Additional details
Edit
Cover artEdit
References
Edit
Tankōbon Claymore volumes cited are VIZ Media (en-us) editions, unless otherwise noted. Manga scenes (chapters) not yet translated cite Shueisha tankōbon (ja) editions. Manga scenes not yet published in tankōbon form cite Jump SQ (ja) editions. Fragments of Silver Omnibus (総集編 銀の断章 Gin no Danshou) 1–3, Shueisha, are only available in Japanese. Anime scenes (episodes) cited are FUNimation (en-us) editions, unless otherwise noted.
Ad blocker interference detected!
Wikia is a free-to-use site that makes money from advertising. We have a modified experience for viewers using ad blockers

Wikia is not accessible if you've made further modifications. Remove the custom ad blocker rule(s) and the page will load as expected.