Scene 99

Adversaries remeet

Original magazine title

血肉への渇望[1] Chiniku e no Katsubō

Issue, release date

February 2010, 4 January 2010

Tankōbon title

ロートレクの灰燼 IV[2] Rōtoreku no Kaijin IV, volume 18

US tankōbon title

Ashes of Lautrec, Part 4[3]

New character

N/A

Quote

Where could I have encountered an energy like that?[4]

Region

Locale

Unnamed village in Alfons, village of Ticelli[7]

Next scene

Previous scene
Cold open
Edit
Flashback—amid ruins in Alfons, Priscilla remembers her first meeting with Raki. A faint scent he carries begins restoring her memory.[8]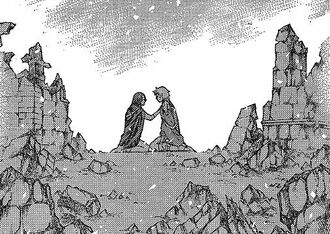 Alfons flashback

Present—Priscilla walks away from the remains of Beth.[9]
From Beth's remains, two rods are ejected and penetrate Priscilla. Her body ejects the rods, which then die.[10]
Riful senses Priscilla's approach and orders Dauf to flee. But suddenly Priscilla appears.[11] She vaguely remembers the encounter in Scene 71.[12]
Riful and Dauf are too weak to defend themselves. When Dauf threatens Priscilla, she tears apart his body. Then Priscilla says the people in Ticelli did not satisfy her hunger, so now she feeds on Riful.[13]
Clare senses Priscilla Yoma aura.
The Destroyer fires another volley of rods. Clare senses the rods' trajectory, then positions Deneve, Helen and herself out of harm's way.[14]
Clare now realizes the aura belongs to Priscilla, who now approaches the warriors.[15]
Additional details
Edit
Cover artEdit
References
Edit
Tankōbon Claymore volumes cited are VIZ Media (en-us) editions, unless otherwise noted. Manga scenes (chapters) not yet translated cite Shueisha tankōbon (ja) editions. Manga scenes not yet published in tankōbon form cite Jump SQ (ja) editions. Fragments of Silver Omnibus (総集編 銀の断章 Gin no Danshou) 1–3, Shueisha, are only available in Japanese. Anime scenes (episodes) cited are FUNimation (en-us) editions, unless otherwise noted.
Ad blocker interference detected!
Wikia is a free-to-use site that makes money from advertising. We have a modified experience for viewers using ad blockers

Wikia is not accessible if you've made further modifications. Remove the custom ad blocker rule(s) and the page will load as expected.