Viscous Strike

Elena submits to death

VIZ Media name

N/A

Variant

N/A

Original name

堅守迎撃[1] Kenshu Geigeki (Viscous Strike)

Type

Defensive[2]

Description

Disability to strike.

Status

Unknown

User

Elena

Associated technique

None

Quote

I never thought I'd end up like this before you did.[3]

First appearance
Etymology
Edit
Unofficial translation. 堅守 derives ultimately from the Chinese for "cohesive and sticky," "viscous." 堅守迎撃 can also be translated as "adhesive strike," emphasizing her inability to move quickly as if being stuck in place.
Elena's datasheet names ability in Yoma War Record I.[4] The manga and anime describe only.
Description
Edit
Typical Yagi paradox—less of an ability and more of a disability to attack. 堅守迎撃 suggests Elena's motion akin to moving through glue or other thick, sticky substance—or being stuck in place.
Low baseline in all categories—especially mental—results in no associated technique.[5]
Clare receives a black card from Elena, via Rubel.[6] Clare and Raki journey to Mount Shire, where Elena awaits. The two speak about their past. Elena was Clare's only friend during their school days together. Elena graduated after Clare, yet began awakening even before Clare.[7]
Despite Raki's protests, Clare euthanizes Elena.
[8]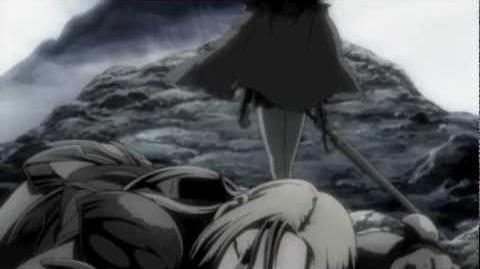 Slow motion of Elena
References
Edit
Tankōbon Claymore volumes cited are VIZ Media (en-us) editions, unless otherwise noted. Manga scenes (chapters) not yet translated cite Shueisha tankōbon (ja) editions. Manga scenes not yet published in tankōbon form cite Jump SQ (ja) editions. Fragments of Silver Omnibus (総集編 銀の断章 Gin no Danshou) 1–3, Shueisha, are only available in Japanese. Anime scenes (episodes) cited are FUNimation (en-us) editions, unless otherwise noted.
Ad blocker interference detected!
Wikia is a free-to-use site that makes money from advertising. We have a modified experience for viewers using ad blockers

Wikia is not accessible if you've made further modifications. Remove the custom ad blocker rule(s) and the page will load as expected.