Winged Yoma

Winged Yoma from anime

VIZ Media name

N/A

Variant

Flyer[1]

Original name

N/A

Current status

Unknown

Ties

Organization

Class

Unknown

Quote

But even you guys can't face a multiple attack in the air.[2]

First appearance
Etymology
Edit
"Winged Yoma" derives from the US FUNimation dub. In the cold open of Anime Scene 2, Clare mentions a "winged Yoma."[3]
In the manga Clare mentions a 飛行タイプ (flying type).[4] Also 羽つきが二 (the two with wings).[5]
Appearance
Edit
These Yoma possess leathery, bat-like wings.
They may simply be a winged variant of ordinary Yoma. Rarest of Yoma.[6] Sometimes awakened beings take the form of Winged Yoma.[7]
Datasheet
Edit
Winged, they differ from ordinary Yoma by their flying ability, thus presenting a greater challenge to Claymore warriors.
Difficult to fight. Warriors have speared them by hurling swords from street-level[8] or rooftop[9] But if a skilled warrior can jump high enough, Winged Yoma can be attacked midair.[10]
In the town of
Strah
,
Clare
engages a Yoma pack. She uses the spear method of
thrown sword
, hurling the sword skyward to pierce the Winged Yoma.
[11]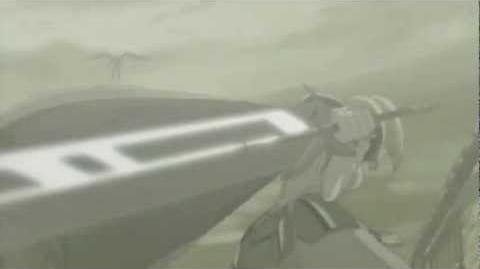 Thrown sword in action
Witch's MawEdit
A Clare in male drag meets five men in Zakol Mountains. She suddenly kills three of them.[12]
The remaining two men awaken into Yoma and attack. Clare dodges them, leaping sky-high. But two Winged Yoma attack Clare from above.[13]
Clare shreds both fying Yoma. She lands, then shreds the two Yoma. As they fall apart, they taunt her saying she is seeking her own death.[14]
In Lacroix, among the crowd of spectators, a woman awakens. Clare and Cynthia fight the female awakened, while Yuma knocks unconscious a search and rescue mission.[15]
Cynthia and Clare whittle down the Awakened's false body—the true body tries to escape as Winged Yoma-like entity.[16] Yuma uses a thrown sword and minces the wings. Cynthia and Clare then kill the awakened.[17]
References
Edit
Tankōbon Claymore volumes cited are VIZ Media (en-us) editions, unless otherwise noted. Manga scenes (chapters) not yet translated cite Shueisha tankōbon (ja) editions. Manga scenes not yet published in tankōbon form cite Jump SQ (ja) editions. Fragments of Silver Omnibus (総集編 銀の断章 Gin no Danshou) 1–3, Shueisha, are only available in Japanese. Anime scenes (episodes) cited are FUNimation (en-us) editions, unless otherwise noted.